Home
LUKIC'S DEFENSE IS IGNORANCE
The defense of the accused police general doesn't deny that in the spring of 1999 the MUP personnel committed a number of mass killings in Kosovo. However, according to the defense, the crimes were not a part of a plan and not many persons within the police knew of them at the time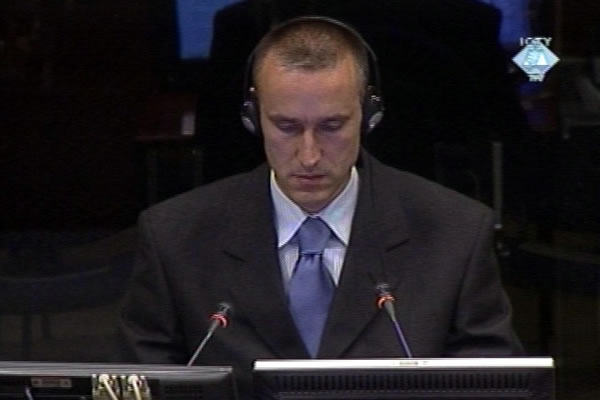 Vladimir Ilic, defense witness for Sreten Lukic
The hearing at the trial of the Kosovo Six today revealed that the defense of police general Sreten Lukic didn't contest the fact that MUP personnel took part in several mass killings in Kosovo in the spring of 1999. What it is trying to prove is that virtually nobody knew of the crimes committed against Albanians, and General Lukic, head of the MUP Staff for Kosovo, was no exception. Vladimir Ilic, former member of the 122nd PJP Brigade, testified in Lukic's defense. He was in Kosovo, he said, but he never heard of the mass killings police officers committed in Djakovica and Suva Reka and the villages of Meja, Bela Crkva, Kotlina and Izbica.
The witness contends that he was never ordered to kill or rob Albanians, or to expel them from Kosovo. He never received any orders to burn down their houses, or to seize their personal documents and destroy them. As a PJP unit commander in Kosovo, he never personally ordered anything like that to be done, he said. Contrary to that, the police was protecting Albanians, he claims, and was persuading them not to leave their homes.
Similarly to some previous Lukic defense witnesses, Ilic said that the MUP Staff for Kosovo didn't issue orders to the PJPs. The decisions to deploy them were made by the chief of Police Administration in the Serbian MUP with the approval of the PJP commander. In 1999, general Obrad Stevanovic held both posts. Thus, according to Ilic, it appears that the deployment of special units was in Obradovic's hands only.
As Ilic claimed that his PJP brigade was subordinated to the VJ only on one occasion, the defense counsel of Nebojsa Pavkovic and Vladimir Lazarevic, two military generals, cross-examined the witness. In his reply to their questions, Ilic admitted that he only received an oral order for the resubordination of his unit to the VJ Pristina Corps; he never got anything in writing. However, he stuck to his claim that the police fought under the military command.