Home
SRETEN LUKIC DECIDES NOT TO TESTIFY
Police general Sreten Lukic joined Nikola Sainovic, Dragoljub Ojdanic and Nebojsa Pavkovic and also decided not to testify in his own defense at the Kosovo Six trial. The Tribunal announced today that General Pavkovic was granted seven-day provisional release for 'humanitarian reasons'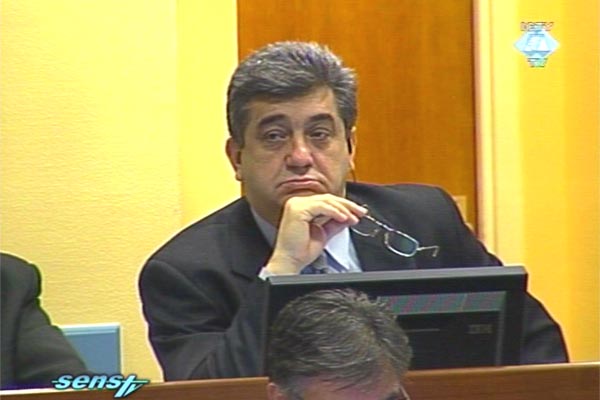 Sreten Lukic in the courtroom
Before the defense opened its case at the trial of the Kosovo Six, former Serbian officials charged with crimes against Albanian civilians in 1999, the defense counsel of five accused announced that their clients would give evidence in their own defense. However, as their defense case was drawing near, one by one, the accused decided not to testify. The first to do so was Nikola Sainovic, former deputy prime minister in the FRY government. He was followed by two generals, Dragoljub Ojdanic and Nebojsa Pavkovic.
Today the defense of police general Sreten Lukic announced that he was deleted from the witness list. The only ones who stuck to their initial decision were general Vladimir Lazarevic and Milan Milutinovic. Lazarevic, former commander of the Pristina Corps, testified in his own defense as the first defense witness in November 2007. Milutinovic, former Serbian president, had never intended to testify.
The working week at the trial of the Kosovo Six was concluded with the evidence of former chief of Prizren Secretariat of the Interior Milos Vojnovic and Branislav Debeljkovic, former chief of criminal police in Urosevac. Both claimed that at the time NATO launched its campaign in 1999 they didn't know of any crime of neither army nor police against Albanian civilians. For some of the crimes the two of them heard only after the Serbian troops started withdrawing from Kosovo.
Today the Tribunal announced that the Trial Chamber had granted General Nebojsa Pavkovic's motion for provisional release in the period from 25 March to 2 April 2008 for 'humanitarian reasons'. The reasons were not specified because they are of personal nature. Pavkovic will remain in Serbia under 24-hour police surveillance and will wear an electronic bracelet. This measure is implemented for the first time since the Tribunal started granting provisional release to the accused.