Home
KOSOVO TIME-TABLE CHANGED
The witness testifying in the defense of police general Sreten Lukic admits that from late March to mid-April 1999 extra trains ran from Pristina to Macedonia. The prosecution alleges that the extra trains were put in service to forcibly transfer Kosovo Albanians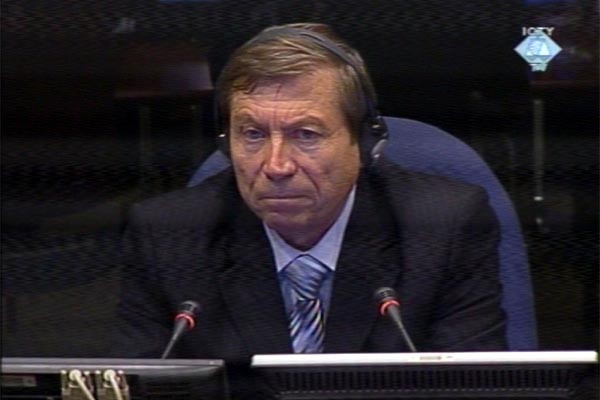 Milomir Bogosavljevic, defense witness for Sreten Lukic
Milomir Bogosavljevic, General Sreten Lukic's defense witness and former commander of the police station for railway security in Kosovo Polje, denied the claims made by some prosecution witnesses that from the beginning of the NATO campaign up to twelve trains left Pristina for Macedonia every day; they were full of Albanians expelled from their homes. The trains didn't run at all in the first five days of the NATO air strikes, the witness said. The witness didn't say what happened afterwards.
In his cross-examination, the prosecutor put it to the witness that from 29 March to 15 April 1995, more trains left Pristina for Macedonia than were listed on the train time-table. Bogosavljevic agreed, saying that apart from four regular departures there were two or three extra trains. According to his calculations, some 1,000 persons could board a train; this meant that about 6,000 to 7,000 persons were transferred to Macedonia from Pristina via Kosovo Polje in the last days of March and the first half of April 1995.
The prosecutor reminded the court of the evidence given by prosecution witnesses who had said the trains leaving for Macedonia had been full of people, 'packed in like sardines'. Bogosavljevic objected that it was not true that people were 'hanging on the train doors and windows'. 'Where did you get this? I never said something like that', the prosecutor asked him. The witness replied that he 'read some statements', but didn't explain whose and when.
As the hearing continued, Lukic's defense called former deputy chief of the Pristina Secretariat of the Interior. At the beginning of his evidence, he talked mainly about the structure of the Interior Ministry and the fighting between the police and the KLA in 1998. He will continue his evidence on Monday.