Home
GENERAL LUKIC'S 'INSTRUCTIVE DISPATCHES'
Sreten Lukic's defense witness denies the former police general had command over the police units in Kosovo. The accused general occasionally sent 'instructive dispatches' but never issued orders to chiefs of Secretariats of the Interior in the province, the witness clarifies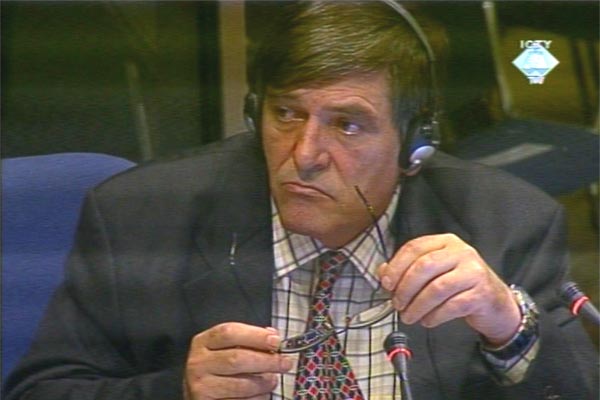 Bozidar Filic, defense witness for Sreten Lukic
According to Bozidar Filic, former deputy chief of the Pristina police, the MUP Kosovo Staff, headed by General Sreten Lukic in 1998 and 1999, did not exercise command over the police units in the field. However, the decision to establish the Staff, signed by the Interior Minister on 16 June 1998, specifies that its task is to 'plan, organize and manage the activities of police units in Kosovo'.
In practice, this was not implemented, the witness said, prompting the prosecutor to ask him if it was customary in the Serbian police to ignore orders from interior ministers. Filic explained that this was not the custom. He saw this document now for the first time and couldn't remember if anyone told him that the Staff had any command role.
When Filic was asked to explain what the Staff was doing in Kosovo, he said that from time to time its chief, Sreten Lukic, would send 'instructive dispatches' to local Secretariats of the Interior, but these were not orders. The witness was shown several minutes from the meetings when Lukic was issuing tasks to the chiefs of Kosovo Secretariats of the Interior. He didn't attend these meetings, he said, adding that in his belief the minutes were authentic and these tasks were assigned.
Similar to some previous Lukic's defense witnesses, Filic denied that the accused general had any authority over the Special Units of the Police (PJPs) in Kosovo. Former deputy minister of the interior Obrad Stevanovic issued orders to PJPs and all PJP commanders were responsible to him.
The defense of General Sreten Lukic continues its case tomorrow at the trial of six former Serbian political and police officials charged with Kosovo crimes in 1999. Its next witness will be Milivoje Mihajlovic, head of the Media Center in Pristina during the war.