Home
EQUATION WITH A LOT OF UNKNOWN
Former police officer from Srbica testifies in the defense of police general Sreten Lukic. In late March 1999, he took part in an anti-terrorist action in that municipality. He doesn't know which PJP unit he fought with or who commanded the unit. He saw between 100 and 5,000 Albanian refugees on that occasion, he says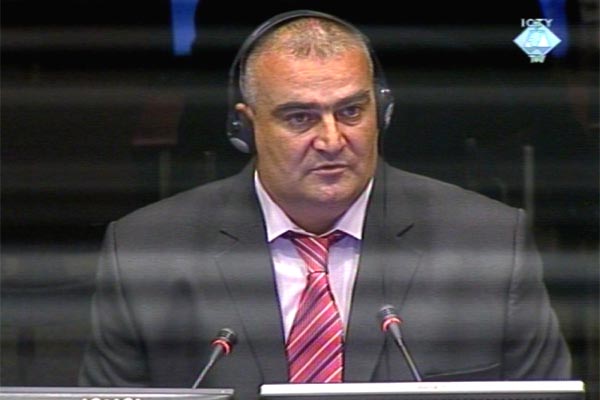 Sladjan Pantic, defense witness for Sreten Lukic
According to the indictment against the six former Serbian officials, on 28 March 1999 the police and the army expelled some 4,500 Albanian civilians from the villages in the Srbica municipality. Sladjan Pantic, former police officer from Srbica testifying in the defense of police general Sreten Lukic, said he had taken part in the 'anti-terrorist operations' launched in late March 1999 in that area of Kosovo. He was acting as a guide to a PJP company from Belgrade.
The witness denied that the company had any contact with civilians. He did admit though that on 27 March 1999 he saw a group of refugees near the village of Vocnjak. They were heading south. In his examination-in chief, the witness didn't say how many people there were in the refugee column. When the prosecutor insisted on an estimate, Pantic gave him different figures. First he claimed there could have been between 100 and 1,000 persons, only to admit later that it was possible the number could have been about 2,000 or 3,000, maybe even 5,000 refugees.
In addition to not being able to estimate the number of refugees, Pantic said he had no idea what detachment the company he was assisting belonged to. He didn't know who the commander was and whether any other MUP and VJ units took part in that anti-terrorist operation.
[IMAGE]3279[/IMAGE]Petar Damjanac was the next witness to testify in defense of Sreten Lukic today. Former police chief in Glogovac spoke mainly of numerous KLA attacks on the police and on both Albanian and Serbian civilians in 1998 and 1999. The prosecution has not contested the existence of such attacks.