Home
POLICE SELDOM ARRESTED POLICE OFFICERS
In her examination-in chief, former investigative judge from Pristina Danica Marinkovic implied that in Kosovo in 1999 the police regularly arrested the perpetrators of crimes, even if they were police officers. However, when she answered the prosecutor's questions today, she said that there were only two cases where the police officers had been arrested for killing Albanians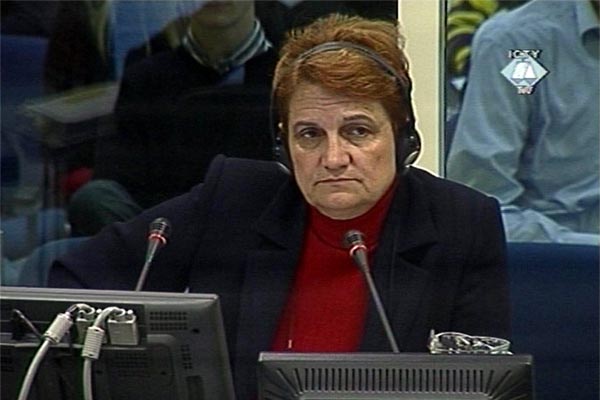 Danica Marinkovic, defense witness for Sreten Lukic
From the examination-in chief of Danica Marinkovic, former investigative judge of the Pristina District Court, it could be concluded that the police in Kosovo regularly arrested the perpetrators of crimes, even if they were the interior ministry personnel. In her evidence as a defense witness of police general Sreten Lukic, she mentioned an example: three police officers from Kosovo Polje who were arrested and detained on charges of murder of a number of Albanian civilians in the village of Batusa on 8 May 1999. Lukic is accused together with five other former Serbian officials for crimes against Kosovo Albanians in 1999.
However, her cross-examination today revealed that the arrest of police officers from Kosovo Polje was an exception to the rule. The witness could remember only one other case where police officers had been arrested for killing Albanians. She mentioned the case of another MUP member who had been tried before the Pristina District Court for aggravated robbery. A certain number of persons were tried for theft, a minor criminal offence, before the municipal courts.
Prosecutor Carter spent most of her today's cross-examination in an attempt to prove that the arrested Albanians, according to the police the KLA members, had been beaten up in detention and forced to sign statements drafted by Serbian police officers. Despite that, Judge Marinkovic claimed that all legal bodies as well as the police operated professionally and according to the law.
As today's hearing drew to a close, the presiding judge asked the parties to state their views about the further course of the trial and its end. The trial opened in the summer of 2006. General Sreten Lukic's believes it would complete its case by mid-April. If the Trial Chamber doesn't call additional witnesses after that, the parties could go on to present their closing arguments. However, as the prosecutor today asked for three months and the defense teams want 30 days for the preparation of the final briefs, the closing arguments are not likely to follow immediately after the evidence of the last witness. The judges will rule on this issue subsequently.