Home
RUGOVA WANTED TO BE PLACED UNDER HOUSE ARREST
Former state security officer in Kosovo says that Kosovo Albanian leader Ibrahim Rugova was not under house arrest during the NATO campaign and was not pressured into negotiating with the Serbian officials. He did so voluntarily and sought police protection himself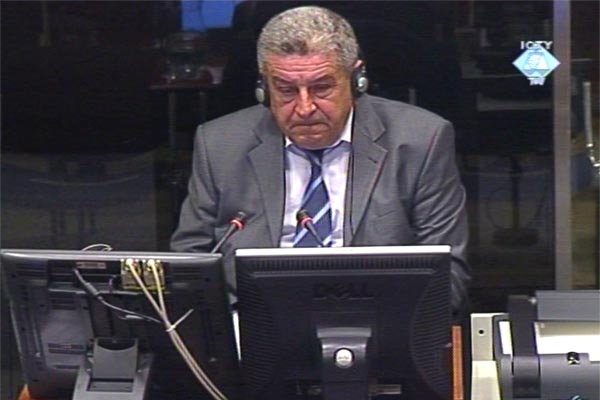 Ljubivoje Joksic, defense witness for Sreten Lukic
When NATO campaign started, Ljubivoje Joksic was the deputy chief of the Serbian State Security Center in Pristina. In this capacity, he was in charge of watching over Kosovo Albanian leader Ibrahim Rugova, Rugova's closest associate Adnan Merovci, and their families. In their evidence before the Tribunal as prosecution witnesses, Rugova and Merovci confirmed the prosecution allegations, describing this supervision as 'house arrest', 'detention' and 'duress'. The defense teams of the six accused see it as 'protection'. Joksic, testifying in the defense of police general Sreten Lukic, described how he saw the situation as he was cross-examined by Nikola Sainovic's defense counsel.
His colleagues from Pristina and he himself decided to look for Rugova and check whether there was any truth in the stories in the foreign media about his life being under threat, the witness said. On 31 March 1999, they found Rugova in his family house in Pristina, he said. They immediately informed Rade Markovic, head of the state security service, and he ordered Joksic to ask Rugova if he wanted to meet with Milosevic in Belgrade. Rugova considered it briefly and then agreed to negotiate, the witness claims. He was transferred to Belgrade that same night, escorted by Joksic.
Adnan Merovci testified for the prosecution at this trial, describing these 'voluntary talks' as 'a fight for life'. In his words, Rugova and he were under house arrest from 31 March 1999, when the police broke into their house. Joksic contradicted that, saying that the police had learned of KLA's plans to kill Rugova and decided to provide protection. This could not be considered as house arrest, he explained, because the DSK leader and his family could 'move around the whole house freely', although they were not allowed to leave the house.
In April 1999, Joksic was present at the meetings between Rugova and Nikola Sainovic in Rugova's house. According to him, the talks proceeded in a tolerant atmosphere and although the two would not agree on everything at first, in the end they would find a solution. When Rugova and Merovci wanted to leave the country, they were allowed to do so, Joksic said. On 5 May 1999 an airplane arrived from Italy and flew them to Rome. According to Joksic, Rugova and Sainovic kissed each other on Rugova's departure, another indicator of the cordial relations between the Albanian leader and the Serbian officials. On that occasion, the witness gave his 'Albanian friends' a pack of cigarettes each. 'They promised they'd pay me back after the war, but didn't keep their word', the witness concluded.
After Joksic completed his evidence, the defense called Cedomir Sakic, former member of Serbian Interior ministry. In the spring of 1999, he escorted refrigerated trucks transporting bodies from Kosovo to Serbia. His testimony continues tomorrow.