Home
DEFENSE: MILITARY JUDICIARY WAS INDEPENDENT
Former military prosecutor in the Pristina Corps command says that in 1999 he was able to do his job with full independence. He would have charged anyone – including General Lazarevic – had they tried to influence him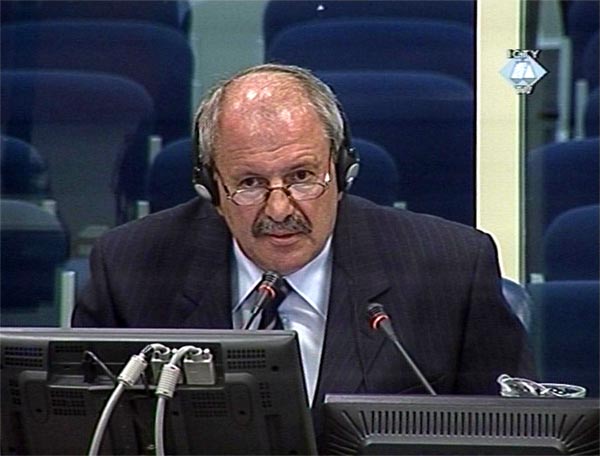 Mihajlo Gergar, defense witness for Vladimir Lazarevic
Many Kosovo Albanians who testified as prosecution witnesses claim that when the Serbian security forces attacked their villages they saw VJ tanks on the hills around them. Mihajlo Gregar, commander of the VJ 211th Armored Brigade, claims the opposite: his unit never used tanks during the NATO air campaign. At the time, Gregar's superior was the Pristina Corps commander, Vladimir Lazarevic. Today, he testified in his defense.
The witness admits his unit did provide artillery support at times when attacks were launched on Albanian villages harboring KLA members. In one such situation, during the attack on a village near Vucitrn, the police commanders told him which hills to target and he did so. Neither he nor his soldiers saw what targets they were hitting, but he's sure these were legitimate military targets. He did not agree with the prosecutor when he put it to him that they might have hit a refugee convoy.
The next witness was Djura Blagojevic, former military prosecutor in the Pristina Corps command. His evidence tallied with that of several previous defense witnesses: about 900 persons were indicted during the war in Kosovo. Radomir Mladenovic, president of the Pristina Corps Military Court said in his testimony as Lazarevic's defense witness that 230 of the 900 were charged with war crimes. Neither Mladenovic nor Blagojevic were able to say how many of those cases were actually completed and how many resulted in the convictions of the accused soldiers and officers.
Military prosecutor Blagojevic says he did his job with full independence during the war in Kosovo. He was under no pressure from any Pristina Corps officers, including General Vladimir Lazarevic. Had Lazarevic done so, the witness now claims, he would have charged the Pristina Corps commander with attempt to influence military judiciary.
General Vladimir Lazarevic's defense case is drawing to a close. The defense is supposed to rest its case next week. The defense of police general Sreten Lukic will then call its first witnesses.