Home
DIFFERENCE BETWEEN THINKING AND KNOWING
Two prosecution witnesses claimed that in late April 1999 former chief of security in the VJ 52nd Artillery Brigade Sergej Perovic saw about twenty bodies of Kosovo Albanians in the Djakovica area. Perovic says he didn't hear of any crimes; he 'thinks' he never filed any reports about the crimes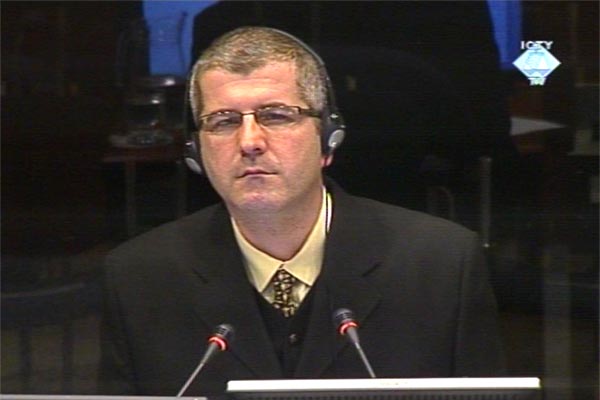 Sergej Perovic, defense witness for Vladimir Lazarevic
Testifying in the defense of General Vladimir Lazarevic today, two former VJ officers who had served in the 52nd Artillery Brigade contested the evidence of their former colleague from the same unit. Captain Nik Peraj testified for the prosecution, saying that hundreds of Albanian civilians were killed in the joint operation of the army and police launched on 27 and 28 April 1999 in Meja and Korenica, villages in the Djakovica area. According to Peraj, Lazarevic personally commanded the operation. Sergej Perovic, security chief in the 52nd Brigade, and Zdravko Vintar, moral education chief, stated that Peraj had fabricated every detail in his evidence. As they testified, Peraj was 'most probably blackmailed by the KLA' because he continued to live in Kosovo after the NATO air campaign.
[IMAGE]3195[/IMAGE]Perovic and Vintar confirmed that the 52nd Brigade and several other military and police units took part in the action. But they denied that it was commanded by General Lazarevic. Sergej Perovic contested Peraj's claim that on 28 April 1999 he had been able to reach the forward command post of the Pristina Corps and seen General Lazarevic command the attack on Meja and Korenica. According to Perovic, it was impossible because Peraj would have been stopped by the heavy security.
Peraj saw bodies of Albanians who had been killed in a number of locations in Meja. Twenty of those bodies he saw as he passed by a police check point. Peraj was with Perovic, who today first avoided to give a direct answer and finally said that Peraj had lied. If Peraj lied, the prosecutor asked, does that mean that General Aleksandar Vasiljevic also lied. He reminded the court that in his examination-in chief Vasiljevic had said that Perovic had told him about twenty bodies of Kosovo Albanians he had seen on 28 April 1999 at a different location, at the Djakovica bus stop. Perovic exhibited more restraint in his denial of Vasiljevic's statement. 'I don't think I reported that at all', he briefly replied.
The first witnesses testifying in the defense of General Lazarevic tried to shift the blame for some crimes on the Interior Ministry. This was followed by aggressive cross-examination by the defense of police General Sreten Lukic, and this was when the VJ dirty laundry came out. As time went by, the military witnesses no longer implicated the police, going as far as to deny the involvement of the Interior Ministry in the murders and expulsion of Kosovo Albanians when asked direct questions about that. Lieutenant-colonel Perovic was no exception: he wasn't aware that the police had committed any crimes in Kosovo. "Only when the war was over had he' heard something about it in the media'.