Home
'SOMEONE KILLED SOME CIVILIANS IN SOME SECTORS'
General Lazarevic's defense witness claims that on 27 April 1999 his soldiers didn't commit any crimes in the village of Korenica. Only in 2001, he said, did he receive 'unconfirmed information' that 'someone killed some civilians in some sectors'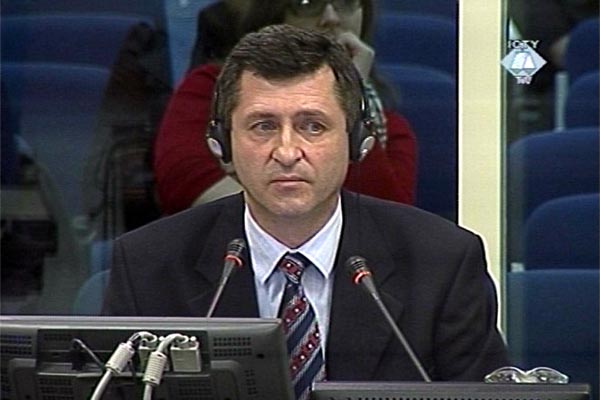 Vlatko Vukovic, defense witness for Vladimir Lazarevic
The VJ battalion under the command of Colonel Vlatko Vujovic took part in the attack on the village Korenica on 27 April 1999. Prosecution witnesses testified that several hundred civilians had been killed on that day in Korenica and surrounding villages. The rest were robbed and expelled. Colonel Vujovic, testifying as General Lazarevic's defense witness, claims he knows nothing of these crimes.
Despite the fact that it is noted in his brigade's war diary that the unit was deployed in the village centre and all the way to the crossroads at a road nearby, the witness claims that this was just 'an axis where the unit was deployed'. This doesn't imply that it actually was there on those points, he claims. He and his fighters were deployed around the village, not inside it, and the police 'cleaned up' Korenica. The witnesses spoke of Serbian soldiers and police officers killing their relatives before their very eyes but Vukovic insisted that he had neither seen anything nor heard any shots coming from the village.
The prosecutor warned the retired colonel that the witnesses' evidence was corroborated by forensic reports finding that the bodies found in a mass grave in Batajnica near Belgrade were those of civilians from Korenica. Vukovic remained adamant that he knew nothing at the time the attack against the village was launched. However, he admitted he 'heard from someone' that 'somebody killed some civilians in some sectors". Vukovic is positive that none of his soldiers committed any crime but didn't want to make any claims about other people.
[IMAGE]3209[/IMAGE]After Vukovic, General Lazarevic's defense called its next witness Mihajlo Gregar. He is a former commander of the 211th Armored Brigade.