Home
WHAT DID MILITARY JUDICIARY DO WITH KOSOVO CASES?
According to General Vladimir Lazarevic's defense witness, in 1999 the military judiciary indicted 230 VJ personnel for crimes against Kosovo Albanians. He didn't say how many of them were tried and convicted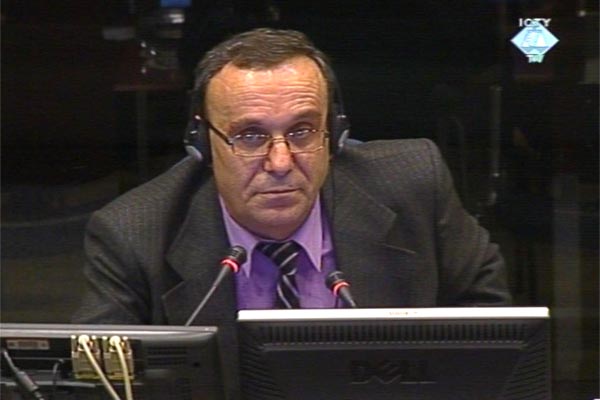 Radomir Mladenovic, defense witness for Vladimira Lazarevic
Radomir Mladenovic was the president of the Military Court at the Pristina Corps command in 1999. The military courts in Kosovo indicted some 190 VJ soldiers and 40 officers for grave crimes against Albanian civilians in the spring and summer of 1999, he says. This contradicts the prosecution's allegation that the Pristina Corps commander Vladimir Lazarevic created an atmosphere of impunity, tolerating and instigating the crimes against Albanians, the defense says. The prosecution counters the argument, saying that Lazarevic's willingness to punish the crimes is better reflected in the number of cases where the proceedings were actually brought to the close.
Just like the military judges and prosecutors who had testified as Lazarevic's defense witnesses, Mladenovic was not able to tell the court how many of 230 indicted VJ members were convicted. The only thing Mladenovic knows is that the military judiciary' faced 'serious difficulties' in investigating those cases. Albanian witnesses were not available during the NATO air campaign, and even less after the air strikes stopped. As time went by, most of the cases were turned over to civil courts. The army and General Lazarevic had nothing to do with them, the witness explained.
The defense claims that general Lazarevic and his subordinate officers had nothing to do with the prosecution of war crimes from the moment the military police submitted the cases to the military judiciary. As Mladenovic clarified, they were not allowed to take part in the investigation and they were even prohibited from asking about the fate of the accused and the cases because this could have been interpreted as pressuring the judicial organs.
As the defense teams of the two military generals – Vladimir Lazarevic and Nebojsa Pavkovic – have thus far contended that it was the police and not the army that took part in the operations in which the Albanian civilians were killed, the witness reminded the court of the fact that under the law, military courts and military investigative bodies were not authorized to deal with crimes committed with the police. In his words, those were under the jurisdiction of the civil judiciary from the very beginning of the war.