Home
A BLANK MAP OR A PLAN FOR EXPULSION
In his cross-examination, former VJ colonel Milan Kotur denied that he had disclosed details of a VJ plan for 'the elimination of the KLA and removal of Albanians from Kosovo for good' to a Kosovo Verification Mission liaison officer. He claims he gave Richard Ciaglinski a 'blank map' without any lines indicating where the Serbian forces were attacking the KLA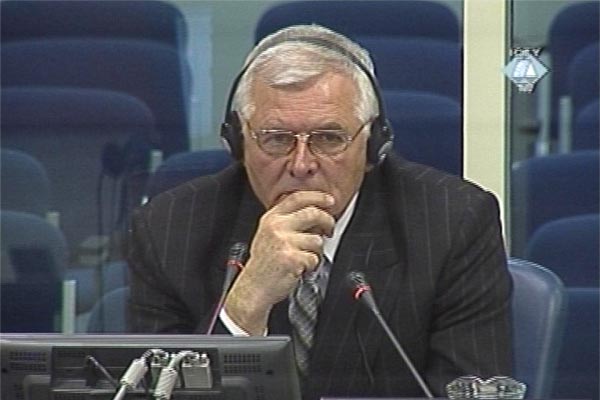 Milan Kotur, defense witness for Vladimir Lazarevic
In his cross-examination, Milan Kotur, former VJ Pristina Corps liaison officer, refused to say who told him what Richard Ciaglinski had testified in closed session at the trial of Slobodan Milosevic. According to Ciaglinski, in 1999 Kotur told him there was a plan for 'the elimination of the KLA and removal of Albanians from Kosovo for good'. At the time, Ciaglinski was a liaison officer in the Kosovo Verification Mission.
Although Lazarevic's defense counsel objected, saying that the question about identity of persons that had relayed to Kotur what had been said in closed session was unfounded, presiding judge Bonomy allowed the prosecutor to continue with the cross-examination saying that 'the credibility of two important witnesses is at stake'.
Kotur first said that he 'couldn't say' who disclosed the contents of Ciaglinski's evidence to him, but then he corrected himself. He 'couldn't remember who among his colleagues was present in the room when this issue was discussed', he clarified. 'The part Ciaglinski's evidence in public session made it clear to all who he was referring to', Kotur explained. Finally, when Judge Bonomy asked him to explain why he didn't want to name these persons, Kotur said that 'many people don't want to have anything with this court'.
Just as he did at the trial of Slobodan Milosevic in 2006, in his examination-in chief Kotur denied the allegations of the British colonel. In his cross-examination, he confirmed that he had given a map to Ciaglinski. But, as he said, the map was 'blank'. There were no lines indicating where the Serbian troops were attacking the KLA that his KVM opposite number described at the trial of Slobodan Milosevic. When the prosecutor observed that today he had denied everything he had said in 1999 because he 'had gone too far then', Kotur smiled, saying that 'Ciaglinski would confirm the same if the prosecutor called him once again to testify'.
The defense case of general Vladimir Lazarevic, former VJ Pristina Corps commander, continued with the evidence of witness SD30 whose examination-in chief was conducted in closed session for the most part.