Home
DEFENSE: NOTHING HAS BEEN PROVEN
According to Valentin Coric's defense, the former head of the HVO Military Police should be acquitted; the prosecutor has failed to prove the allegations in the indictment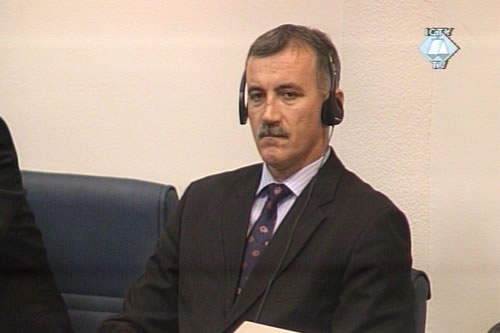 Valentin Coric in the courtroom
Valentin Coric's defense believes that the prosecutor has failed to prove any of the counts in the indictment charging Coric and other five Bosnian Croat leaders with crimes committed in Central Bosnia and Western Herzegovina in the course of the Croatian-Muslim conflict in 1993 and 1994.
Coric's counsel Vesna Tomasegovic Tomic argued that today at the Rule 98 bis hearing, urging the Trial Chamber to acquit her client on all counts in the indictment. Tomasegovic Tomic didn't present arguments for each count.
According to Coric's defense, the prosecutor has failed to provide solid evidence for the rape charges. Tomasegovic Tomic blamed 'criminals taking advantage of the war situation' for the crimes listed in the indictment. Although it was difficult to investigate crimes because of the war, investigations were conducted, in spite of the fact that those crimes had been committed 'under cover of the night'.
The defense of the former head of the HVO Military Police also believes that the prosecution has failed to prove Valentin Coric's command responsibility in relation to the persons who committed rapes listed in the indictment and he cannot therefore be held responsible for 'failure to prevent or punish' those crimes: it has not been established that he actually knew about the crimes.
Furthermore, Coric's counsel said, quoting Marjan Biskic, a Croatian Army officer who testified at the trial, the HVO military police was not the sole agency responsible for investigating crimes and filing criminal reports against the perpetrators. Her client was the commander of the HVO military police in the time relevant for the indictment.
The prosecutor failed to prove that the joint criminal enterprise existed and that Coric took part in it, the defense went on to say. The hearing continues tomorrow with the arguments of Berislav Pusic's defense.