Home
PROSECUTION CASE ENDS AT HERCEG BOSNA TRIAL
The prosecution ended its case at the trial of former Bosnian Croat leaders. Rule 98 bis hearings are scheduled for next week. In their oral motions under this rule, the defense teams are expected to ask for the acquittal of their clients on counts that they contend the prosecution has failed to prove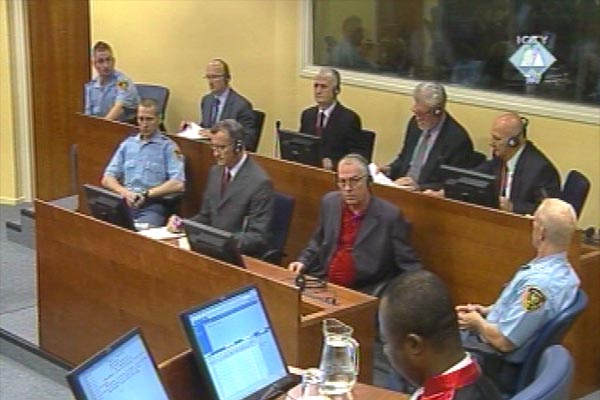 Jadranko Prlić, Milivoj Petković, Bruno Stojić, Slobodan Praljak, Valentin Ćorić i Berislav Pušić u sudnici Tribunala
At the trial of former Herceg Bosna leaders – Jadranko Prlic, Milivoje Petkovic, Bruno Stojic, Slobodan Praljak, Valentin Coric and Berislav Pusic – the prosecution ended its case today with the evidence of its last witness who testified under full protective measures in closed session.
The Rule 98 bis hearings are scheduled for next week. The defense teams of the accused are expected to ask for the acquittal of their clients on counts that they contend the prosecution has failed to prove. The Trial Chamber has yet to decide whether the trial will be adjourned before the defense case is due to start.
The trial opened on 26 April 2006 and lasted 246 court days or approximately 1,000 hours with four-hour daily hearings. The prosecution has spent 295 hours presenting its case. It called a total of 145 witnesses. Some sixty written statements of witnesses were tendered into evidence as were more than 4,200 exhibits.
Former Bosnian Croat leaders are charged in the indictment, with crimes committed against the Muslim population in Central Bosnia and Western Herzegovina, as part of a joint criminal enterprise headed by former Croatian president Franjo Tudjman.