Home
NO CRIMES, JUST ETHNIC CLEANSING
As the prosecution brings its argument at the trial of former Herceg Bosna leaders to a close, prosecutor Scott quoted from an HVO military police document. At the height of the conflict in Mostar, the military police reports that on that day 'no crimes were notified, just the ethnic cleansing of the Muslims'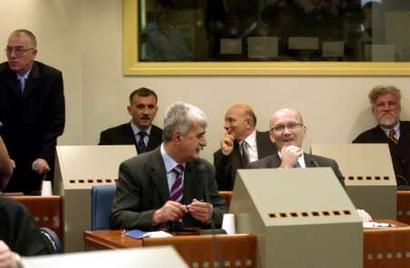 Jadranko Prlic and Bruno Stojic in the front row and Slobodan Praljak, Milivoj Petkovic, Valentin Coric and Berislav Pusic in the back row
'No crimes were notified today, just the ethnic cleansing of the Muslims', the HVO military police reported on 15 June 1993. Kenneth Scott, senior trial attorney in the case against six former Herceg Bosna leaders, quoted it as the prosecution arguments in 98 bis proceedings drew to a close. According to him, this and other evidence clearly indicates that the Bosnian Croat leaders saw ethnic cleansing not as a crime but as a means to accomplish their main objective – an ethnically clean Herceg Bosna which would be part of a Greater Croatia.
The accused were well aware of the 'ethnically colored policy', ran from both western Mostar and from Zagreb, the prosecutor claims. They encountered it every day during the Muslim-Croatian conflict in 1993 and 1994. According to the prosecution, Valentin Coric, former chief of the HVO military police administration, had substantial influence on the conduct of the HVO military police. 'Instead of investigating the crimes to identify and punish the perpetrators', the military police was involved in some of the gravest crimes in Prozor, Gornji Vakuf, Capljina, Mostar…. According to the presidential transcripts, Miroslav Tudjman, son of the former Croatian president, put Coric forward for the post.
'The evidence clearly shows that Pusic's and Coric's pen was the key to the Herceg Bosna prisons', prosecutor Douglas Stinger said, quoting documents where the two accused issue orders that a certain number of prisoners be released provided they had documents needed to leave for third countries. The prisons and camps in Mostar, Capljina, Dretelj and Heliodrom were used as temporary accommodation for the civilian population before they were expelled.
In his statement to the OTP, Jadranko Prlic said that the first expulsions of the Muslim population occurred after 9 May 1993, when the fighting began in Mostar. This prompted Prlic to offer his resignation to Mate Boban, he told the investigators, because he felt 'that no end could justify' the means the HVO used.
Noting that the HVO expelled its own population from Central Bosnia in order to populate the now empty towns like Stolac and Capljina in Herzegovina, the prosecutor cited the testimony of Peter Galbraith, former US ambassador to Croatia. Former HZ HB president Mate Boban admitted to Galbraith that there was a plan to transfer as many ethnic Croats from Central Bosnia to the territory of Herceg Bosna as possible. Instead of protecting the Croats in the territory where they lived, Boban asked the international community to help with the evacuation of Croats from Vares.
The Rule 98 bis proceedings ended with the prosecution arguments. Presiding judge Antonetti indicated the Trial Chamber would consider the arguments presented by both parties and would 'as soon as possible' deliver its oral decision on whether the prosecution had presented solid evidence for the defence to contest in its case.