Home
PRLIC'S LAWYER PUNISHED
Jadranko Prlic's American lawyer gets a seven-day speaking ban after insulting a witness and one of the judges of the Trial Chamber hearing the case of six former Herceg Bosna leaders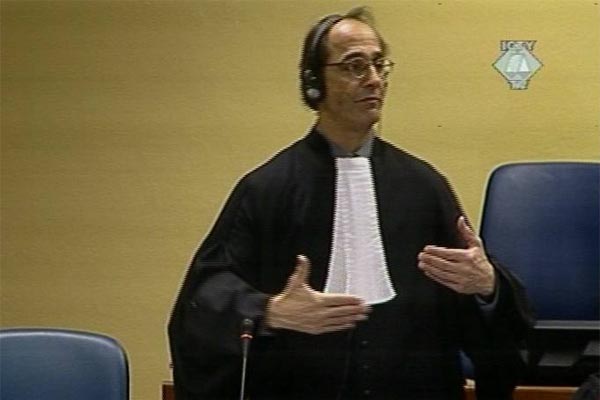 Michael Karnavas, defense attorney for Jadranko Prlic
The Trial Chamber hearing the case against the six former Herceg Bosna leaders punished Michael Karnavas, US lawyer representing the first accused Jadranko Prlic, for his improper conduct towards a protected prosecution witness and one of the judges. This happened in closed sessions on 9 and 10 January 2008. The following whole of the next week, from 15 to 21 January 2008, Karnavas will not be allowed to address the judges and prosecution witnesses. In that period, the defense of the former president of Herceg Bosna government will be taken over by Suzana Tomanovic, Prilic's co-counsel.
The judges went on to explain in their decision that last week Karnavas addressed a protected prosecution witness in 'an intimidating and offensive' tone. He managed to 'calm down and get himself under control' only after several interventions on the part of the judges. Also, the Trial Chamber found Karnavas's remark that there was 'a fifth prosecutor' in the courtroom – in reference to Swiss judge Stefan Trechsel – offensive and unacceptable.
The American lawyer of Greek origin accepted the decision of the judges, admitting that he was aware of his defects. He promised he would try and avoid this kind of situations in the future and thanked the judges for their 'generosity'.
The trial continued with the evidence of Cedric Thornberry, former UN Assistant-Secretary General in the territory of the former Yugoslavia. At the time relevant for the indictment against the former Bosnian Croat leaders, he was the head of Civil Affairs in the UNPROFOR mission. His evidence in this case focuses primarily on the situation he saw when he visited Mostar in August 1993.