Home
SURVIVING ON BREAD AND RAINWATER
A protected witness testifies for the prosecution at the trial of former Herceg Bosna leaders, describing the conditions in the HVO prisoner camps in Vitina, in the village of Vrda and in Heliodrom. Prisoners were taken to do forced labor and were used as living shields, he says. He was shot in the foot because he didn't know who organized the escape of prisoners from Vrda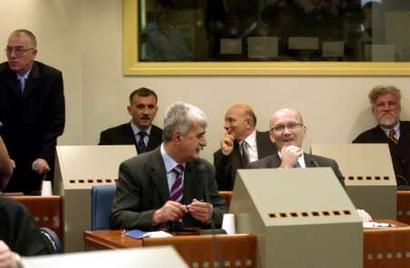 Jadranko Prlic and Bruno Stojic in the front row and Slobodan Praljak, Milivoj Petkovic, Valentin Coric and Berislav Pusic in the back row
After several days of hearings in closed session, the trial of the six former Herceg Bosna leaders was today briefly opened to the public for the examination of a witness testifying under the pseudonym EI. He is a former member of the Territorial Defense. He spent the second half of 1993 in HVO prison camps in the hangar in Vitina, in the village of Vrda and in Heliodrom.
The prosecutor read out a summary of the statement the witness had given to the OTP. In it, the witness described the HVO attack on Novi Sehar on 26 June 1993, his surrender three days later and his transfer to Vitina where he spent 'some two months'. In his words, there were about 450 prisoners held in inhumane conditions in a hangar in Vitina. When the prisoners were taken to do forced labor, they were given hot meals. Those who remained in the camp received nothing but 'a quarter of a loaf of bread', the witness said. They drank rainwater and were allowed to wash once a week.
According to the witness, the HVO troops took them to forced labor to the front lines threatening to kill them and abusing them verbally and physically. After two months in the Vitina hangar, the witness was taken to the village of Vrda. The prisoners there were used as human shields.
During his captivity in Vrda, the witness was shot in the foot. The incident happened after the escape of ten prisoners. The rest of the prisoners were interrogated. They were beaten up so badly that he could 'hardly recognize them', the witness said. The witness didn't know who was responsible for the escape, and the commander 'put a gun into his mouth, then pressed it to his neck and his ear', and then 'grabbed his foot and fired a shot'.
The witness was taken to Heliodrom in November 1993. The prisoners there were taken to do forced labor on the front lines in Mostar, he said. Many of them were wounded. A man he knew died of his injuries.
The defense teams of the six former Bosnian Croat leaders charged with HVO crimes in 1993 and 1994 in Herzegovina and Central Bosnia did not contest the witness's claims in their brief cross-examination.