Home
PYRES IN STUPNI DO
As the trial of former Herceg Bosna leaders continues, Husnija Mahmutovic from Stupni Do gives his evidence. On 23 October 1993, his father and brother were killed in the HVO attack on the village. A total of 38 persons were killed in that incident. Most of victims were burned in their houses or on a haystack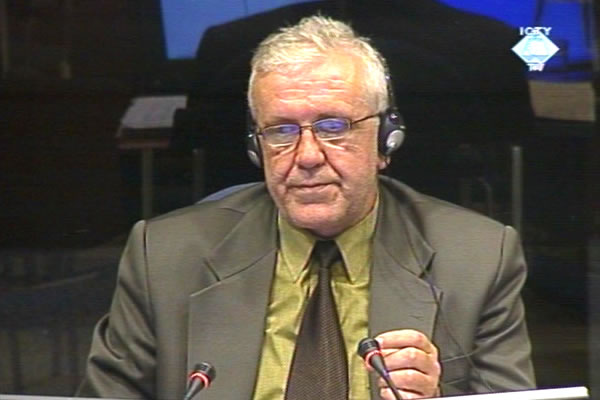 Husnija Mahmutovic, witness in the trial of the Bosnian Croat leaders
Husnija Mahmutovic, former president of the Stupni Do local commune, is testifying at the trial of former Herceg Bosna leaders. He spoke about 23 October 1993, when the HVO attacked his village. His father and brother were killed in the attack. The witness confirmed the allegations of the prosecution, saying that 38 inhabitants were killed and then set on fire.
'HVO soldiers threw bodies of the victims into the burning houses to cover up their crime', the witness noted. In his words, this was one of the main reasons why the UN Nordic Battalion found only 16 bodies after they entered the village. The remains of other victims were discovered only later, below the debris of the burned-down houses. Only one body has not been found yet, that of a victim who was killed and burned on a haystack, as the witness learned later.
According to the witness, at the time of the attack there were 36 'poorly armed' BH Army soldiers and about 200 civilians in the village. On the other side, there were about 500 'well armed soldiers', 'drunk and on drugs'. The Maturice and Apostoli special units from Kiseljak were among them.
In answer to a judge's question, 'what does it mean to be burned alive', the witness stated that the HVO soldiers captured a group of inhabitants and put them in a house, and then proceeded to set the house on fire. The villagers managed to escape after they broke down the door. One of the survivors already testified about that incident at this trial.
In his reply to Judge Antonetti's question whether the HVO had called on the inhabitants to surrender prior to entering the village, the witness categorically replied that they had not. He stuck by his original reply even when he was told that some witnesses had claimed the opposite.
Only Ivica Rajic has been convicted for the Stupni Do crimes at the Tribunal. Rajic was sentenced to 12 years in prison. He pleaded guilty to planning and implementing the action that was ordered, the prosecution alleges, by the then commander of the HVO General Staff, Slobodan Praljak, who said, 'deal with the situation in Vares without showing mercy to anyone, find the people who are up to the time and tasks'.