Home
FATE OF THIRTEEN PRISONERS FROM VRANICA
At the trial of former Herceg Bosna leaders, prosecution witness Amor Masovic describes his meetings with the accused Berislav Pusic. The fate of the thirteen BH Army soldiers captured by the HVO in the attack on the 4th Corps HQ in Vranica in Mostar on 10 May 1993 was discussed at those meetings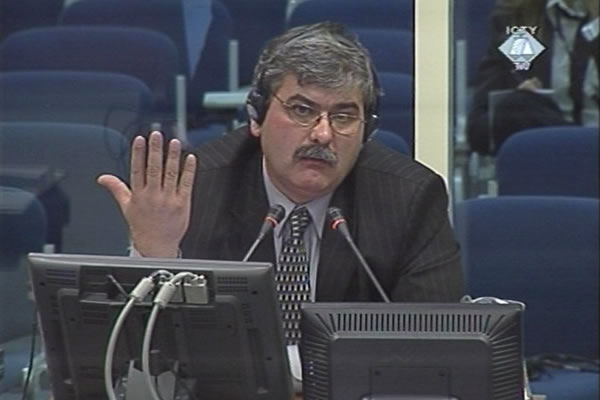 Amor Masovic, witness in the trial of the former Bosnian Croat leaders
Amor Masovic, head of the BH institute for missing persons continued his testimony at the trial of former Bosnian Croat leaders. The fate of the thirteen BH Army soldiers captured by the HVO in the attack on the 4th Corps HQ in Vranica in Mostar on 10 May 1993 was discussed at the meetings with the accused Berislav Pusic, who headed the Herceg Bosna Exchange Office, Masovic said.
In the examination-in-chief, the prosecution showed a video clip of the BH Army troops immediately after they were captured. Because the footage had been broadcast all over the world at one point, Masovic said, the fate of the captured BH Army soldiers was a particularly sensitive problem in the relations between the two warring sides.
Masovic claims Pusic told him at their first meeting on 29 December 1993 that eight of the soldiers were 'still alive', advising him to talk to Safet Orucevic, wartime mayor of Mostar, about their fate. Masovic realized later that Pusic had been bluffing and that all of the soldiers were probably dead already.
On another occasion, in an informal conversation in July 1997 at the Geneva lake, Pusic told the witness that he was willing to provide information about 'the sixteen BH Army soldiers from Vranica' in exchange for the information about 21 Croats from Bugojno. Masovic didn't give too much weight to this until a mass grave was found near Mostar. Sixteen sets of skeletonized remains were recovered from the grave in May 2007. DNA analysis results obtained so far indicate without any doubt that the remains are those of the sixteen captured BH Army soldiers, Masovic said.
Pusic's defense counsel Fahrudin Ibrisimovic noted in his cross examination that the investigation in this case was not yet completed. When Ibrisimovic put it to the witness he could not 'state with certainty' that sixteen bodies had been found in the grave, Masovic said that the official investigation had not yet shown that, but that he had no doubts: the DNA analysis identified 15 people, and one person is yet to be identified.