Home
HARADINAJ AND BRAHIMAJ PROVISIONALLY RELEASED
The Trial Chamber granted the motion of the accused for a two-week provisional release during the winter recess, agreeing with the defence that there was no risk that they would refuse to come back to The Hague. Milan Milutinovic, Radivoje Miletic, Milan Gvero, Rasim Delic and six former Herceg Bosna leaders have also been provisionally released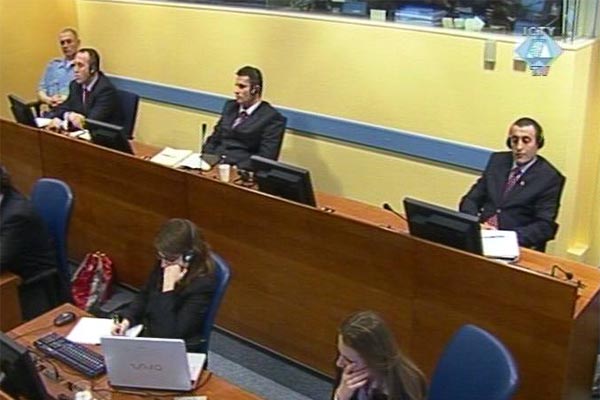 Ramush Haradinaj, Idriz Baljaj and Lahi Brahimaj in the courtroom
The Trial Chamber granted the motion filed by the two former KLA commanders, Ramush Haradinaj and Lahi Brahimaj, for provisional release during the Tribunal's winter recess. They were allowed to join their families in Pristina from 21 December 2007 to 4 January 2008. Idriz Balaj, the third accused charged with the same crimes, didn't ask to be provisionally released.
The Trial Chamber agreed with the defense of the two accused that there was no risk that the two would refuse to return to The Hague for the trial, just as there was no danger they would pressure the witnesses because the prosecution has rested its case, and the defense has decided not to call evidence. Nevertheless, they will be under round-the-clock surveillance by the UNMIK police. They must not leave Pristina and must not make any public addresses or engage in politics.
Jadranko Prlic and the other five former Herceg Bosnia officials will spend the winter recess at home, as will Milan Gvero and Radivoje Miletic, who are on trial for crimes in Srebrenica in the summer 1995. The first accused at the trial of the Kosovo Six, Milan Milutinovic will also be provisionally released. Rasim Delic, former commander of the BH Army General Staff, was granted provisional release earlier.
At her last press conference yesterday, before the end of her term of office as the chief prosecutor, Carla Del Ponte called for no more 'Christmas presents' by the judges to the accused in the form of provisional release during the winter recess. The fact that twelve accused will enjoy temporary freedom this Christmas, Carla Del Ponte emphasized, is incomprehensible both to her and to the victims.