Home
PROSECUTION HAS NO MORE WITNESSES IN HARADINAJ ET AL. CASE
A protected witness with the pseudonym 30 failed to appear at the location where he was supposed to testify at the trial of former KLA commanders via video link. The Trial Chamber decided to formally conclude the prosecution case on Wednesday at noon. The defense teams of Haradinaj, Balaj and Brahimaj have yet to state whether they intend to call any evidence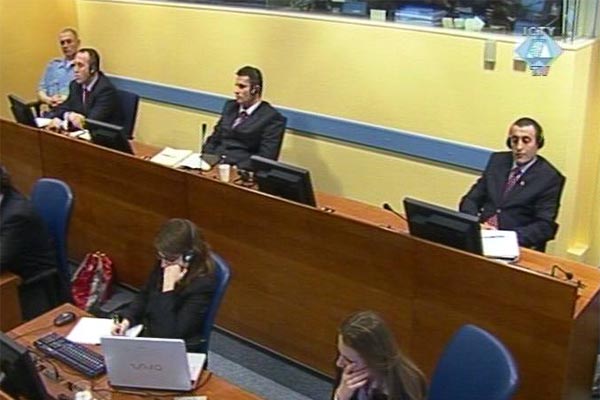 Ramush Haradinaj, Idriz Baljaj and Lahi Brahimaj in the courtroom
A protected witness with the pseudonym 30 failed to appear today at the location where he was expected to testify at the trial of three former KLA commanders via video link. Canadian authorities have informed the Tribunal that the witness fell ill en route to the location and he was rushed to hospital. The next health report is due in 7 to 10 days, and the Trial Chamber removed him from the list of prosecution witnesses.
Shefqet Kabashi was also removed from the list. His evidence was first scheduled for 5 June 2007 and then rescheduled for 20 November 2007, but Kabashi refused to testify on both occasions. The prosecution asked the Trial Chamber to give Kabashi some more time to change his mind, but the judges decided today that it 'will not get involved in a never-ending story about witnesses whose testimony might be expected on some uncertain date in the future'.
The prosecution case will be formally concluded on Wednesday, 28 November 2007 at noon, it was decided today. The Trial Chamber will have ruled by then on the admissibility of some of the prosecution evidence. This will affect the decisions of the defense teams of Ramus Haradinaj, Idriz Balaj and Lahi Brahimaj. After they learn which prosecution exhibits have been admitted, they indicated today, they will decide whether they want to file Rule 98bis motions, calling for the acquittal of the accused on all or some counts in the indictment and whether they want to present their cases at all.