Home
US DEFENSE COUNSEL VS. ICTY PROSECUTOR
Defense counsel representing former KLA commander Idriz Balaj accuses Carla del Ponte of violating professional ethics. Del Ponte stated in an interview that she believed Ramush Haradinaj was guilty and that she intended to prove this. She was criticized for not denying the 'media speculation' about the alleged murders of witnesses who were to testify against Haradinaj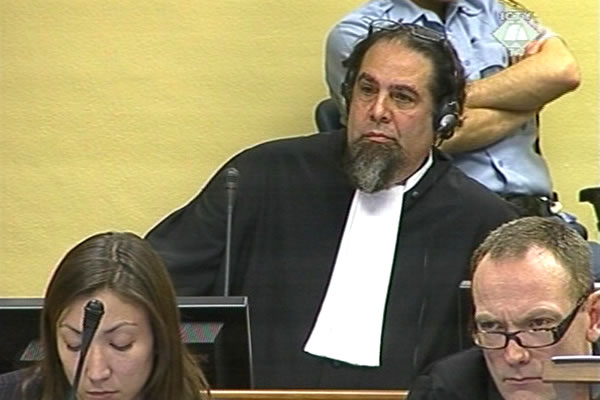 Gregor Guy-Smith, defense attorney for Idriz Balaj
Gregor Guy-Smith, US lawyer defending Idriz Balaj – charged together with Ramush Haradinaj and Lahi Brahimaj with the KLA crimes in the summer of 1998 – filed a complaint against the ICTY chief prosecutor Carla del Ponte, alleging she 'violated professional ethic'.
In the complaint, he alleges that in an interview to German magazine Der Spiegel Del Ponte said that she had 'no doubts about Ramush Haradinaj being guilty of war crimes' and that the OTP had the evidence to prove this.
According to the US lawyer, Del Ponte violated the standards of professional conduct demanding that the prosecutors 'avoid public comments that concern the merits of the case before the tribunal outside the courtroom' and that they 'refrain from public statements about the guilt of the accused' before the judgment is delivered.
The US lawyer criticized the chief prosecutor for not doing anything to deny 'the widespread media speculation' about the alleged murders of some potential witnesses. They were allegedly killed because they were to testify against Haradinaj. In Guy-Smith's words, the only potential prosecution witness that didn't die of natural causes was not murdered – he died in car crash.
Balaj's defense counsel called the Trial Chamber to set a date for the presentation of evidence and to find Carla del Ponte guilty if it were proved that she had breached code of professional ethics.
All the defense counsel of the three former KLA commanders strongly oppose the admission into evidence of the written statement given by the prosecution witness who 'didn't die of natural causes', as Guy-Smith put it. Apart from the opposition from the defense bench, there is another factor indicating the potential importance of this witness's testimony for the prosecution case: in its pre-trial brief, the prosecution designated him as 'protected witness no. 1'. In the following days, the Trial Chamber will consider whether the written statement of the 'witness no. 1' will be admitted into evidence.
Today the prosecution officially rested its case against the former KLA commanders as it hadn't been able to get two insider witnesses – protected witness 30 and Shefqet Kabashi – to testify via video link. They refused to give evidence and sought shelter in Canada and the USA respectively. Kabashi clarified why he had decided not to testify against Haradinaj, Balaj and Brahimaj saying that the Tribunal's protective measures applied only in The Hague courtroom and not in Kosovo where the witnesses were being killed.