Home
PROSECUTION CALLS FOR 25 YEARS IN PRISON FOR HARADINAJ, BALAJ AND BRAHIMAJ
In its final brief, the prosecution claims it has proven that the three former commanders took part in a joint criminal enterprise that resulted in the murder of at least 40 Albanians, Roma and Serbs in 1998. Closing arguments are scheduled for next week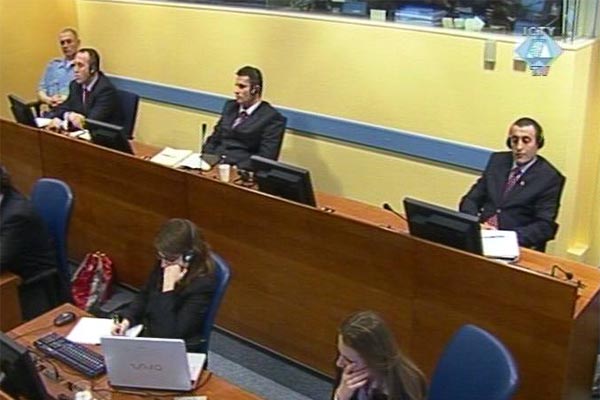 Ramush Haradinaj, Idriz Baljaj and Lahi Brahimaj in the courtroom
The prosecution considers it proved that the three former KLA commanders – Ramush Haradinaj, Idriz Balaj and Lahi Brahimaj – are guilty of the crimes against Serbs, Roma and Albanians in 1998. In its final brief, the prosecutor asked the Trial Chamber to convict all three accused and to sentence them to 25 years in prison.
The prosecution considers it managed to prove that Haradinaj, Balaj and Brahimaj participated 'with great enthusiasm' in a joint criminal enterprise that resulted in the murder of at least 40 persons. The only reason the Serbs and Roma were killed was their ethnicity. Albanians were killed because they held different political views – they were labeled collaborationists. The prosecution claims it managed to prove that the three accused were personally involved in the killing and torture of civilians. In conclusion, the prosecution asked the Trial Chamber to convict the three accused of crimes against humanity and violations of laws and custom of war.
The prosecution rested its case in November 2007. The defense teams of the three accused notified the Trial Chamber that they didn't intend to call any evidence to refute the prosecution case, because in their view, the prosecution failed to prove any of the charges. The trial was then closed. The final briefs of the defense teams have not yet been made public. The two sides are scheduled to present their closing arguments on 21, 22 and 23 January 2008.