Home
EXCHANGES ACCORDING TO BERISLAV PUSIC
Berislav Pusic was always opposed to 'all for all' exchanges, favoring 'one for one' exchanges, said Amor Masovic, head of BH Institute for Missing Persons. This meant that 'we would set free HVO soldiers, and they'd release captured civilians', he went on to say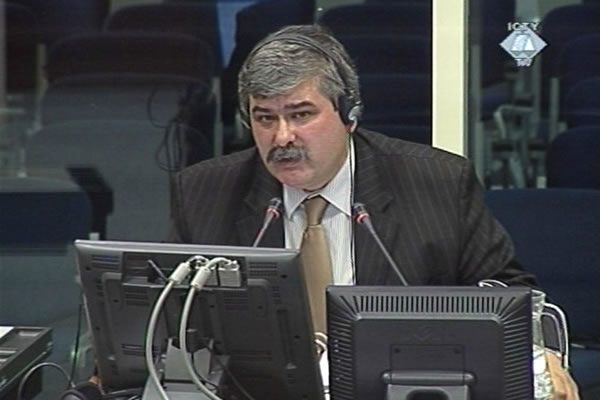 Amor Masovic, witness in the trial of the former Bosnian Croat leaders
Amor Masovic, head of the BH Institute for Missing Persons, testified today at the trial of six former Herceg Bosnia leaders. During the HVO-BH Army conflict in 1993, Masovic was actively involved in the work of BH state commission for the exchange of prisoners of war. From late 1993 and in the course of 1994 he met with the accused Berislav Pusic a number of times. Pusic headed the Herceg Bosna office for the exchange of detainees and missing persons.
Describing these meetings in his examination-in chief, Masovic said that until the signing of the Washington agreement they focused on 'the living'. After that, and particularly after the signing of the Dayton agreement, they discussed only 'the dead'. According to him, Pusic never agreed with the 'all for all' exchanges, favoring the 'one for one' principle. This meant, Masovic clarified, that 'we would set free HVO soldiers, and they'd release captured civilians'.
Pusic publicly advocated the view that all Muslim men between the ages of 18 and 65 in Herceg Bosna territory should be detained in camps and that all Croats living outside of this area were 'potential prisoners' who should be transferred to the territory under HVO control. According to Masovic, the 'dangerous intention' behind all this was to get all the Croats living in the areas controlled by the BH Army out, thus creating ethnically pure territories.
When the prosecutor asked him what policy was advocated by the 'Muslim side', Masovic replied that he had 'no knowledge' of that, because this side never existed. 'I can say what the BH Government advocated', he said. Masovic went on to say that hundreds of thousands Croats lived in the areas controlled by the BH Army and that the number of Croatian prisoners of war and civilian detainees never exceeded 1,100.
Masovic further testifies about the 'Vranica' case, the fate of 13 captured BH Army members arrested on 10 May 1993 in the HVO attack on BH Army 4th Corps command in Mostar.