Home
DEFENSE: ARMY DIDN'T TOLERATE CRIMES
General Bozidar Delic claims the military police escorted perpetrators of the crimes to the military court in Pristina even when they had to pass through the territory under the KLA control. At times, this led to casualties among the suspects and their escorts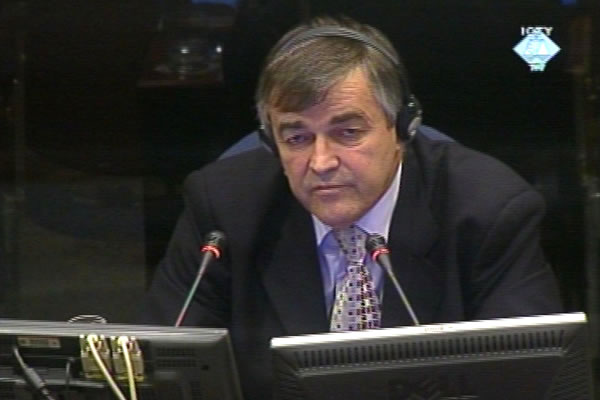 Božidar Delic, defense witness for Vladimir Lazarevic
Challenging the prosecution argument that the VJ commanders in Kosovo did nothing to prevent crimes against Albanian civilians, the defense of Vladimir Lazarevic, former commander of the Pristina Corps, tendered into evidence a document issued by the 549th Motorized Brigade listing the criminal reports filed against the members of that unit between May 1998 and July 1999. General Bozidar Delic, testifying today in Lazarevic's defense, was the brigade commander at the time.
The majority of soldiers deployed in his brigade's area of responsibility behaved properly, the witness says; only a few violated the rules of international humanitarian law. According to Delic, all those who committed criminal offences and who were identified by the military police were brought before military courts. The document lists 75 names of soldiers and officers suspected of theft and seizure of vehicles. As the witness described, some of those soldiers stood by the road to the Albanian border; instead of taking care of the civilians and making sure they didn't stray into mine fields, they joined the columns and robbed the Albanian refugees.
The list mentions several people who committed gravest crimes. One soldier was responsible for rape and six others for killing Albanian civilians. All the suspects were brought to military judicial bodies, Delic said, but couldn't say whether they were subsequently convicted.
Taking the suspects to military courts carried a risk, the witness said, insisting that his brigade carried out that task in the face of danger. An example of the dedication demonstrated by the 549th Brigade to bringing the perpetrators to justice is a case from April 1999, Delic said. Three military policemen headed for Pristina from Prizren, escorting two of the suspects despite the danger. They were all first kidnapped and then killed en route to Pristina.
As today's hearing drew to a close, the prosecutor began his cross-examination. The trial of six former Serbian political, military and police officials continues tomorrow.