Home
GASOLINE AND THE MOVEMENT OF KOSOVO REFUGEES
General Bozidar Delic claims that he and his soldiers made considerable effort to convince the Kosovo Albanians not to leave Kosovo; but they rarely listened. One of the 'excuses' they used was that they had run out of fuel by the time they reached the border. They wouldn't have enough fuel to return home, they said, and it was easier for them to just cross the border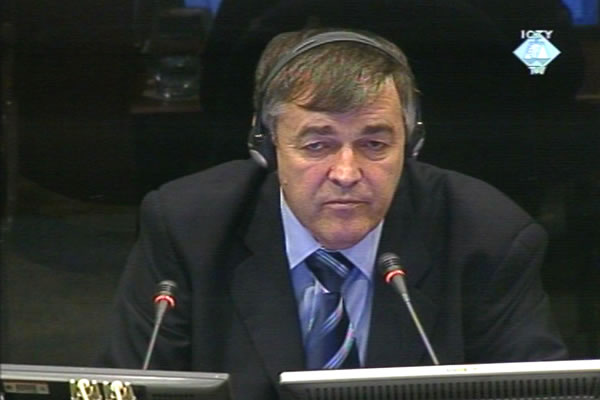 Bozidar Delic, defense witness for Vladimir Lazarevic
General Bozidar Delic appears once again before the Tribunal. The first time he testified in the defense of his former supreme commander, Slobodan Milosevic, in July 2005. Today he testifies for his erstwhile superior officer, General Vladimir Lazarevic. During the war Lazarevic was the commander of the Pristina Corps. Delic's 549th Motorized Brigade was part of the Corps. Delic's connection with the Tribunal does not stop at his giving evidence: he has recently been appointed a deputy speaker of the Serbian parliament. He is a member of the Serbian Radical Party whose leader, Vojislav Seselj, is charged by the ICTY with crimes committed in BH, Croatia and Vojvodina.
Denying that the army had played any role in the Kosovo crimes in 1999, Delic said that the Albanian civilians had not fled from the pressure by the Serbian security forces. They were afraid of being drafted by the KLA or of being targeted by NATO air strikes. This is why there was the exodus of refugees towards the border with Albania and Macedonia. Delic's soldiers at the border tried to persuade them to stay. As he explained, he personally tried to persuade the Albanians to return to their homes but in vain. On one occasion, he managed to convince a group of about 100 refugees to return, but eventually he had to give in when they argued that they had no gasoline left to go back home. There were 'just 14 kilometers to Albania', they said.
Most of eye-witnesses who had traveled to Albania as refugees said in their evidence that the army had escorted them towards the border, and prohibited them from get off the road. As Delic explained today, this was because mines had been laid along the road, and his soldiers wanted to make sure that there would be no casualties from mines among the Albanian civilians, once it became clear that they couldn't prevent them from fleeing Kosovo.
Speaking about specific crimes listed in the indictment, the witness denied that the army had taken part in the expulsion of the inhabitants of Suva Reka, Orahovac and the nearby villages of Celina, Nogavac, Bela Crkva and Velika Krusa. The army passed through some of those places, he admitted, but it was only after the police 'finished fighting terrorists'. The army didn't participate in the attack on the village of Mala Krusa, Delic said. The first time he heard of the killing of 105 Albanian civilians there was in 2000. When he wad asked if there was any truth in what many prosecution witnesses had said, that these soldiers looted the Albanian villages as they passed through, Delic said that this couldn't have been possible. There was no way for officers to allow it, he said, and the combat backpack was too small to store any valuable 'war booty'.
General Delic continues his evidence on Tuesday.