Home
POLICE GENERAL'S DEFENCE CROSS-EXAMINES MILITARY GENERAL
Commander of the 243rd Brigade of the VJ says his units rarely provided support to police forces attacking the Albanian villages. Soldiers never entered these villages after the attacks, he added, prompting the defense of Sreten Lukic, police general, to show him several documents he had signed painting a rather different picture of the events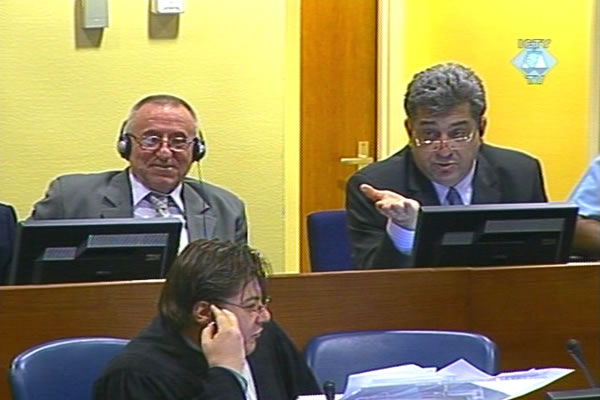 Vladimir Lazarevic and Sreten Lukic in the courtroom
A key element in the defense case of General Vladimir Lazarevic – accused of crimes in Kosovo in 1999 together with five other Serbian former officials – is that army units didn't participate in the attacks on Albanian villages. According to the indictment, the civilians were expelled and many of them were killed in those attacks. Krsman Jelic, former commander of the 243rd Motorized Brigade, said in his examination-in chief as General Lazarevic's defense witness that the police had launched actions near Kacanik and Urosevac in 1999 with the army providing support at times with 'light artillery'. He was adamant that his units, even when they supported the police in the actions against the KLA, never entered these villages.
This implies that only police was responsible for any crimes committed in those villages, and the defense of police general Sreten Lukic took the whole day to cross-examine witness. Jelic was confronted with a series of military documents which clearly show that contrary to Jelic's previous claims the 243th Motorized Brigade elements were much more directly involved in the attacks on Albanian villages.
The gravest incident listed in the indictment happened in the Kacanik municipality: the attack on the village of Kotlina on 24 March 1999. Seventeen young Albanian men were killed and the entire population was expelled. Jelic said that the police had carried out this action and that the army had nothing to do with it. Lukic's defense counsel Dragan Ivetic showed Jelic's order to units of the 243rd Brigade to attack Kotlina. The witness then admitted that the army did participate in this action, but only providing support to the Interior Ministry forces. This prompted the defense counsel to show him the part of the document where the military units are ordered to take part in the 'routing and destroying terrorist forces' which, according to the defense, couldn't be qualified as mere artillery support.
[IMAGE]3106[/IMAGE]A combat report signed by Jelic was presented next. It says that 'the army and police killed 27 terrorists' in the village of Kotlina. According to the defense, this means either that the army entered the village after the attack and determined the number of persons killed or that the police unit informed the command of the 243rd Brigade thereof. This would contradict Lazarevic's argument that the VJ never had command over the Interior Ministry units. Jelic said that neither of the two versions was correct as the army never entered the villages – and this was no exception - and it never exercised command over the police units. It remains unclear how Jelic, as the commander of the 243rd Brigade, was able to get the information that could only be gathered by the police, as he had indicated, immediately after the attack on the village of Kotlina.
After Lukic's defense, the prosecution began the cross-examination of general Jelic. The trial continues tomorrow.