Home
DEFENSE WITNESS FACES ACCUSATIONS
Although several prosecution witnesses linked him with the attack on the village of Meja – the indictment alleges that more than 300 Kosovo Albanians were killed there – Vladimir Lazarevic's defense witness claims that he didn't issue any orders. He heard about the mass execution of civilians from this village last year, when the Kosovo Six trial began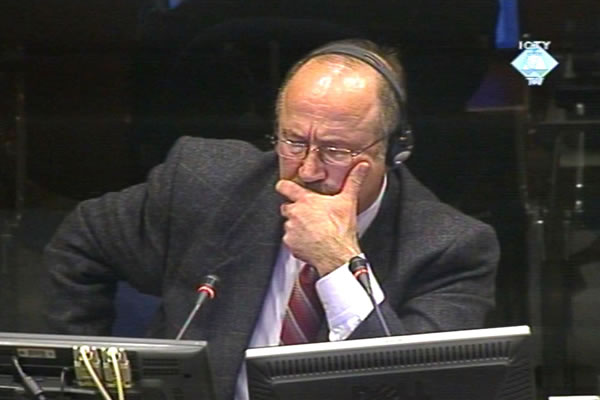 Momir Stojanovic, defense witness for Vladimira Lazarevic
Retired general Momir Stojanovic gave his evidence at the trial of the six former Serbian politicians and generals charged with Kosovo crimes in 1999. During the NATO campaign, Stojanovic was the security service chief in the Pristina Corps. Testifying in the defense of Vladimir Lazarevic, who was Pristina Corps commander, Stojanovic ended up defending himself rather than the accused general. He was linked by several prosecution witnesses with the army and police attack on Meja, a village near Djakovica. More than three hundred of its civilian inhabitants disappeared on 27 and 28 April 1999. Their bodies were found in the summer of 2001 in a mass grave in Batajnica near Belgrade.
Nik Peraj, former VJ captain, testified at this trial in August 2006. Before the attack on Meja, he attended a meeting in Djakovica together with Stojanovic and the Djakovica SUP commander and the local State Security Service chief. There was another military officer there. According to Peraj, Stojanovic said that at least a hundred Albanians should be killed in the Caragoj Valley, where the village of Meja is located, in retaliation for the killing of a police officer by the name of Prascevic, who was Stojanovic's relative. Today the witness said that Peraj had falsely accused him because he had been 'blackmailed by the KLA and had to lie'.
Another prosecution witness, testifying under the pseudonym K-73, said that he was in Junik in April 1999 when Major Stojanovic ordered the troops to cleanse the Caragoj Valley of Kosovo Albanians. The witness denied he had said that, explaining that he never commanded any units, but merely passed on Lazarevic's orders on some occasions.
Although an element of the 52nd military police brigade took part in the attack on the village of Meja, Stojanovic, who was in charge of this brigade, claims that he had no knowledge of any crimes committed in the village, particularly not by the army troops. He heard about the killing of more than 300 Albanians only last year when the Kosovo Six trial began. He didn't change his statement even when the prosecution asked him if he was serious when he said that for seven years he didn't know of a crime committed by forces under his command. He could have got the information from any number of military intelligence sources in the field, and even from his relatives – Stojanovic used to live near Djakovica.
From 2003 to 2005, Stojanovic was chief of the Military Intelligence Service in the Army of Serbia and Montenegro, at the time when the Milosevic trial was in progress. He says he was still not aware of the crime in the village of Meja. He admits that in 2001, he, like 'all the other citizens of Serbia', learned that a mass grave had been discovered in Batajnica. He was very surprised when the prosecutor told him that more than three hundred bodies of Kosovo Albanians from Meja had been found among the exhumed remains.