Home
GENERAL LAZAREVIC WAS 'PARAGON OF HUMANITY'
Describing General Vladimir Lazarevic's character, VJ lieutenant-colonel Vladimir Marinkovic said that Lazarevic 'was and remains his ideal for his military career and humanity'. The Kosovo Six trial continues on 16 January 2008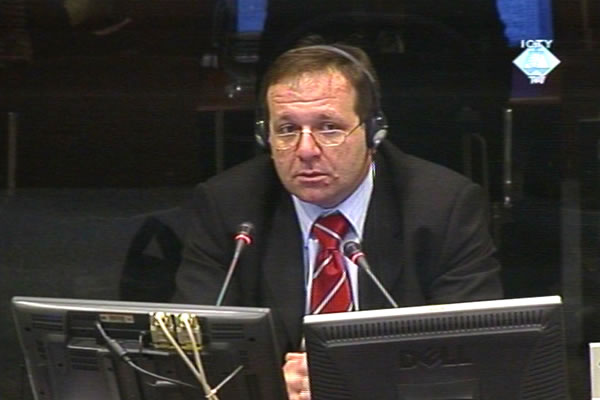 Vladimir Marinkovic, defense witness for Vladimir Lazarevic
The last witness to take the stand this year at the trial of the six former Serbian politicians and generals charged with Kosovo crimes was Vladimir Marinkovic, former security chief in the VJ 15th Armored Brigade. Testifying in defense of General Vladimir Lazarevic, Marinkovic said that all those who committed a crime from his brigade - were handed over to military justice system. They were mainly tried for looting, but Marinkovic described a failed attempt to investigate the crime scene were an Albanian family was murdered.
In early June 1999, Marinkovic learned of the murder of several Albanians in the village of Donje Sudimlje. He immediately informed the brigade commander and the investigating judge of the Pristina Corps who ordered that an investigating team be set up. Marinkovic was on the team. When they entered Gornje Sudimlje, they learned that several members of Gehxaliu family were killed. Their bodies were buried on the outskirts of the village. When the investigators headed to that location to exhume the bodies, the KLA opened fire at them. The investigating judge then suspended the on-site investigation.
Describing the character of the accused Lazarevic, Marinkovic said that he 'was and remains his ideal for his military career and humanity'. This was because Lazarevic didn't spare his own family, never asking for any special treatment for them. During the NATO campaign, General Lazarevic's two sons served in the Pristina Corps and 'had the same status as the other troops'.
The trial of Milan Milutinovic, Nikola Sainovic, Dragoljub Ojdanic, Vladimir Lazarevic, Nebojsa Pavkovic and Sreten Lukic continues on 16 January 2008. Lazarevic's defense has ten more working days at its disposal. After that, General Sreten Lukic's defense case will begin.