Home
GENERAL JELIC BLAMES IT ON THE POLICE, NOT THE ARMY
One of General Vladimir Lazarevic's subordinates claims that the army troops didn't commit any serious crimes such as killings and expulsions of civilians in the Kacanik and Urosevac area in 1999. The army didn't enter in the villages after the clashes with the KLA. According to him, the police was in charge of 'mopping up in the villages'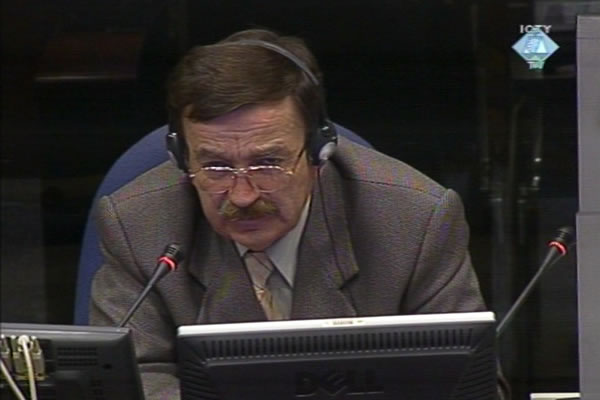 Krsman Jelic, defense witness for Vladimir Lazarevic
Krsman Jelic, former commander of the 243rd Motorized Brigade testifies in the defense of Vladimir Lazarevic. He denies the responsibility of the army for any of the crimes committed in some twenty villages in the Kacanik and Urosevac municipalities where his unit was deployed. According to him, the police launched attacks against terrorists and he doesn't know whether the police committed any crimes in these villages. In 1999, Jelic's brigade was subordinated to Vladimir Lazarevic, who commanded the Pristina Corps.
Lazarevic's defense counsel put to the witness the allegations in the indictment an extracts from the evidence of several prosecution witnesses who claimed that a number of villages in the Kacanik and Urosevac area were first shelled and then, after the Serbian forces entered the villages, some inhabitants were killed, and almost all were expelled. According to the indictment, on 27 and 28 March 1999 members of the army and police killed 17 Albanian youths in the village of Kotlina near Kacanik. The village was burned to the ground and the rest of its population was expelled. According to Jelic, the police was responsible for the attack on the village of Kotlina – 'a strong terrorist stronghold' as he described it – and not troops subordinate to him.
The army provided artillery support to the MUP forces in some situations, the witness admitted, but only to fight against terrorists and not to attack civilians. The army never entered those villages, he said. He was not aware that any Albanians were killed, except for the KLA members who were killed in action. Jelic has no knowledge of the army or the police expelling Albanians. The attacks on villages of Slatina, Dubrava, Sojevo and Miroslavlje are among the incidents mentioned in the indictment against the six former Serbian officials. According to Jelic, the army didn't take part in them.
Members of the 243rd Brigade committed no crimes against civilians, Jelic said, and consequently they weren't tried. Not more than a few dozen soldiers were prosecuted for minor offences, including 'ordinary robberies'.
As the witness laid the blame for the attacks on the Albanian villages and in particular for what followed after the actions on the Ministry of the Interior, the defense counsel of the police general Sreten Lukic decided to cross-examine the witness before the prosecution. As today's hearing drew to a close, he managed to put just a few questions, and the cross-examination continues on Monday.