Home
GOTOVINA'S MOTION FOR PROVISIONAL RELEASE DENIED
The Pre-trial Chamber denied Ante Gotovina's motion for provisional release. The Croatian general will remain in the UN Detention Unit until the start of the trial 'because of his proven ability and determination to avoid arrest'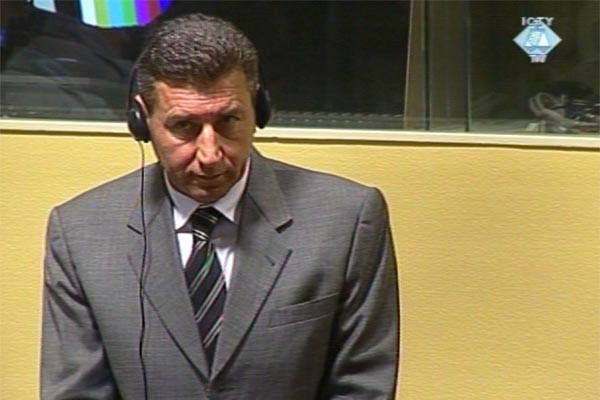 Ante Gotovina in the courtroom
The Pre-trial Chamber today denied General Ante Gotovina's motion to be provisionally released and to await trial under house arrest in Pakostane near Zadar. Together with general Ivan Cermak and general Mladen Markac, Gotovina is charged with crimes committed during and after Operation Storm in the summer of 1995.
In the statement of reasons, the Pre-trial Chamber accepts the prosecution's argument that Gotovina didn't surrender to the Tribunal voluntarily and that 'he had actively evaded arrest for a significant period of time'. The Chamber concluded that he had already 'proven his ability and determination to avoid arrest'. This led the judges to 'doubt that he would return for trial if provisionally released'.
The Pre-Trial Chamber gave little weight to the guarantees proffered by the Republic of Croatia that it would ensure the return of Gotovina to The Hague. No weight at all was given to the guarantees proffered by Ivan Prendja, the archbishop of Zadar. The Croatian government had demonstrated its willingness to cooperate with the Tribunal, the judges said, but in case of Gotovina this commitment had 'limited effect' because he 'had demonstrated his ability and determination to thwart, for a significant amount of time, all efforts to apprehend him, including efforts of the international community'.
The judges agreed with the prosecution that the electronic bracelet Gotovina was to wear while under house arrest, as proposed by the defense, would not 'eliminate the flight risk as it would merely help to determine that the accused has escaped', adding that the electronic surveillance would have 'a limited effect to prevent an escape'.
Concluding that the 'incentives not to appear for trial remain unchanged' and that Gotovina didn't change his attitude but has merely 'adapted to the situation he finds himself at present', the judges were 'not satisfied that Gotovina would return for the beginning of the trial'. The Pre-trial Chamber also ruled that 'there was no need to hold an evidentiary hearing'.
The judges also dismissed the defense's motion to exclude from the prosecution's response to the provisional release motion the court dossier acts and judgments delivered against Gotovina in France in the period from 1985 to 1995 for armed robbery, extortion and forgery.