Home
NEW DEFENSE COUNSELS FOR CERMAK AND MARKAC
All three generals accused of the crimes committed during and after Operation Storm were present at the status conference today. Following the Chamber's order to suspend their provisional release, Ivan Cermak and Mladen Markac joined Ante Gotovina in the UN Detention Unit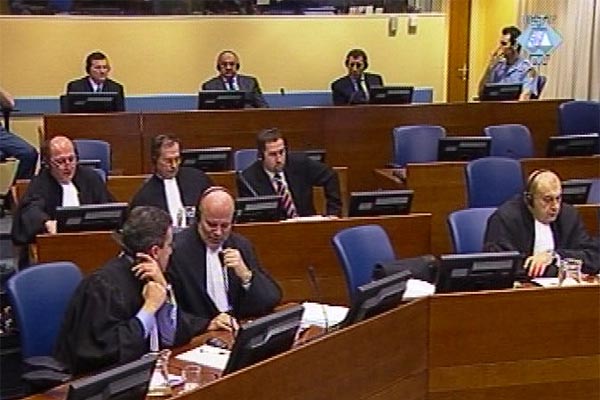 Ante Gotovina, Ivan Cermak and Mladen Markac in the courtroom
Three Croatian generals, Ante Gotovina, Ivan Cermak and Mladen Markac, charged with crimes committed in the course of and after Operation Storm appeared today together at the regular status conference. Their defense teams were the main topic of the conference.
The potential conflict of interest of Gotovina's defense counsel Greg Kehoe was discussed in closed session. Kehoe had worked for the OTP; he was working with Alan Tieger, senior trial attorney for the prosecution in this case. According to the pre-trial judge Bakone Moloto, the Chamber was notified in writing about the appointment of British attorney Steven Kay as Cermak's new defense counsel. Andrew Cayley, Cermak's co-counsel, is still waiting for the approval of the Tribunal's Registry.
The judge from South Africa read Judge Alphons Orie's statement. Ten years ago, Orie worked closely with Steven Kay in the Tadic case. Orie was the lead counsel and Kay was co-counsel. In his letter, the Dutch judge notes that the case he was working on with Kay couldn't 'in any way be related' to the case against three Croatian generals. The cooperation with Kay, he said, took place 'so long ago' that their engagement in another case couldn't jeopardize the quality of the trial.
[IMAGE]1446[/IMAGE]The British attorney, famous for his role in the Slobodan Milosevic case, gave his full support to the position of his former colleague, Judge Orie. The defense teams of Mladen Markac and Ante Gotovina didn't object to the appointment of Ivan Cermak's new defense counsel. Kay indicated he would be ready to proceed to trial in October 2008. The pre-trial judge said this period was too long, adding that the defense counsel could find himself 'speaking directly to the UN Secretary General', because the Tribunal would no longer exist.
In his response, Kay spoke about the volume of the case he had taken over. Apart from the statements given by 160 witnesses, the case file contains approximately '40 more gigabytes of documents'. When the judge warned him he didn't understand 'computer language', Kay compared the volume of the material in this case with the documents in the Slobodan Milosevic case. Last time he checked the Slobodan Milosevic case file contained half as many documents. The judge however brought it to Kay's attention that he 'might not have a whole year at his disposal' for the preparations.
Tomislav Kuzmanovic, US attorney of Croatian descent was appointed Mladen Markac's co-counsel. Kuzmanovic also has previous experience practicing before the Tribunal. He was involved in the trial for Celebici camp crimes.