Home
OPERATION STORM TRIAL OPENS IN MARCH
The trial of three Croatian generals, Ante Gotovina, Ivan Cermak and Mladen Markac, is slated to open on 11 March 2008, but this might change, depending on the availability of judges and courtrooms. There are some other considerations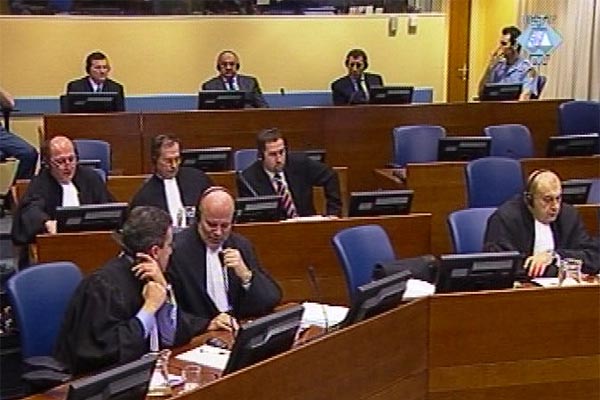 Ante Gotovina, Ivan Cermak and Mladen Markac in the courtroom
The trial of Ante Gotovina, Ivan Cermak and Mladen Markac is expected to begin on 11 March 2008 with the opening statement of the prosecution. The three Croatian generals have been indicted for crimes committed in the summer of 1995, in the course of Operation Storm and afterwards. If this happens, the pre-trial conference will be held on 10 March 2008.
The pre-trial judge Alphons Orie presented those dates at the status conference today, noting they were merely a framework. The exact dates will depend on the availability of judges and courtrooms. There are some other considerations, such as the drafting of the judgment in the Haradinaj case. Judge Orie is the presiding judge in that case.
According to the tentative schedule, the first prosecution witnesses might be called to give their evidence in the week of 11 to 14 March 2008. This is if the defense teams of the three generals decide to present their opening statements at the beginning of their cases. The trial is to go on at full speed – five days a week, if possible, from 7 April 2008.
According to Alan Tieger, senior trial attorney for the prosecution, it would take the prosecution at least eleven months to complete its case. This means that the entire trial might go on for at least two years, until the spring of 2010.
The defense counsel of the three generals were not happy with the schedule, to put it mildly. They are not yet ready to proceed to trial because they have a number of previously arranged business and private obligations.
The Pre-trial Chamber has yet to rule on a number of motions. One of them is the motion filed by the defense teams of Ivan Cermak and Mladen Markac, seeking leave to appeal against the decision that Gregory Kehoe, Ante Gotovina's lawyer, was not in conflict of interest because of his previous job with the OTP. In addition to that, there is Markac's motion against the suspension of his provisional release – he had to return to detention after the 'Wild Boar Affair'. Cermak has filed a motion asking for some modifications of his provisional release regime. As Judge Orie said, the Pre-trial Chamber will rule on those motions soon.