Home
CERMAK HAS NO DEFENSE
The Trial Chamber in charge of the pre-trial proceedings in the Operation Storm case decides with a majority of votes that Cedo Prodanovic and Jadranko Slokovic could not continue defending the accused Ivan Cermak, because there exists a conflict of interest. A month ago, the Chamber ordered Miroslav Separovic to withdraw as Mladen Markac's defense counsel for the same reason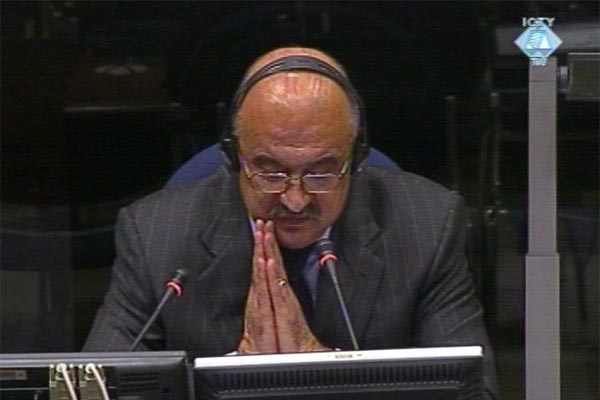 Ivan Cermak in the courtroom
The Trial Chamber in charge of the pre-trial proceedings in the Operation Storm case ordered today the Zagreb lawyers Cedo Prodanovic and Jadranka Slokovic to withdraw as General Ivan Cermak's defense counsel because of conflict of interest. The decision was made by a majority of votes and it does not specify who of the three judges – Moloto, Orie and Van den Wyngaert – voted against. Cermak's outgoing counsel were ordered to remain on the case until a new team assigned by Ivan Cermak confirms it is ready to take on the case.
The conflict of interest stems from the Prodanovic's and Slokovic's "double representation". They represent both Ivan Cermak before the ICTY and General Rahim Ademi in the Medak pocket case, referred to the Croatian courts by the ICTY. As Ademi served as General Ante Gotovina's deputy during Operation Storm and was Cermak's superior for a time, Prodanovic and Slokovic, in the opinion of the majority in the Trial Chamber, face the problem of divided loyalty. They have two clients whose interests do not match and who might end up trying to shift the blame for the events in Operation Storm on each other.
The conflict of interest will be there, the judges decided, regardless of whether General Gotovina's defense calls Ademi as their defense witness, as announced. In that case, Cedo Prodanovic and/or Jadranka Slokovic would have to question one of their clients on behalf of the other one. This "double representation", the majority in the Trial Chamber decided, would make it impossible for Cermak to defend himself by shifting the blame for some of the incidents in the indictment on Ademi or Gotovina.
A month ago, the Trial Chamber ruled that Zagreb attorney Miroslav Separovic was "nepodoban" to continue representing Mladen Markac. Now Ivan Cermak is left without defense counsel. Separovic has filed an appeal against the decision, and Prodanovic and Slokovic will apparently do the same. This will mean a further delay for the Operation Storm trial, originally slated to start on 7 May 2007.