Home
KABASHI AGAIN REFUSES TO TESTIFY ON KLA COMMANDERS TRIAL
In June 2007, Shefqet Kabashi, former KLA member, refused to testify at the trial of Ramush Haradinaj, Idriz Balaj and Lahi Brahimaj before the Tribunal. Today, Kabashi again refused to give evidence in a New York courtroom where he was brought after he was subpoenaed to testify and after a warrant for his arrest was issued by the Tribunal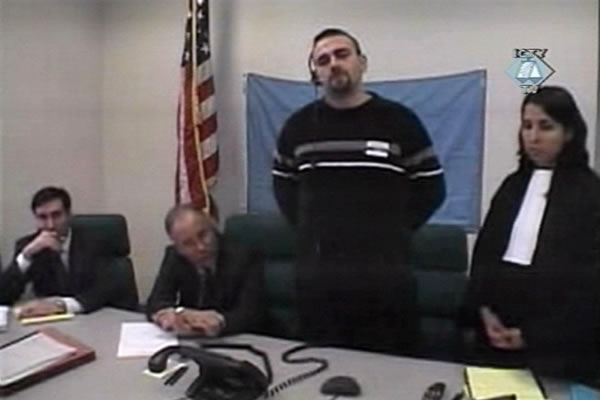 Shefqet Kabashi, witness in the trial of Ramush Haradinaj, Idriz Balaj and Lahi Brahimaj
Shefqet Kabashi, former KLA member and member of the Kosovo Protection Corps, was brought to a New York courtroom today to testify via video link before the Tribunal in The Hague. In the presence of a representative of the US authorities and a New York lawyer assigned as his defense counsel, Kabashi read the solemn declaration that he would speak 'truth and nothing but the truth', after a brief hesitation. He then proceeded to refuse to answer the first question the prosecutor David Re asked him.
Presiding judge Orie warned Kabashi of the possible consequences of his refusal to testify, to no avail. The prosecutor clearly showed he was extremely eager for the unwilling witness to give his evidence. At his suggestion, the video link was cut for half an hour, to give an opportunity to New York attorney Davidson and his colleague from The Hague Karnavas to explain to Kabashi the situation he was in and to lay out his options, but again, it was in vain. Davidson didn't 'rule out the possibility that Kabashi might change his mind in future', prompting David Re to appeal to the Trial Chamber to leave 'the door open' for the unwilling witness to change his mind. The Trial Chamber didn't slam the door, but made it clear to both the prosecutor and the witness it would not be willing to accept 'any dramatic changes' happening in near future. The impression is that Kabashi has time to change his mind until 26 or 27 November 2007. Another unwilling witness, testifying under the pseudonym 30, is scheduled to give his evidence then. The presiding judge warned Kabashi that his change of mind would not result in the dropping of the double charges for contempt of court.
Today is the second time Kabashi refused to testify at the trial of Ramush Haradinaj, Idriz Balaj and Lahi Brahimaj, former KLA commanders charged with crimes against Albanian, Serbian and Roma civilians in Kosovo in the summer of 1998. He refused to testify for the first time on 5 June 2007 before the Tribunal. His explanation was that he 'doesn't live in a normal country' but in Kosovo, where 'people get killed for no reason'. He claimed that he received threats after he testified – under pseudonym and with image and voice distortion as protective measures – in 2005 at the trial of Fatmir Limaj and two other KLA members charged with crimes in the Lapusnik camp.
The Trial Chamber charged Kabashi with contempt of court for refusing to testify and scheduled his trial to begin on 7 June 2007. It ordered the accused not to leave Holland. Kabashi nevertheless disappeared leaving a note saying that for a number of reasons 'the prerequisites for his adequate testimony haven't been met', leading him to decide not to give evidence. He appealed to the judges to 'grant him the right and safety to return to his family'.