Home
PRLIC'S LAWYER 'AND HIS TWISTED HUMOR'
Irish officer Ray Lane continues his evidence at the trial of former Herceg Bosna leaders. His testimony turned turbulent after Jadranko Prlic's attorney added a bit of 'twisted humor' in his cross-examination.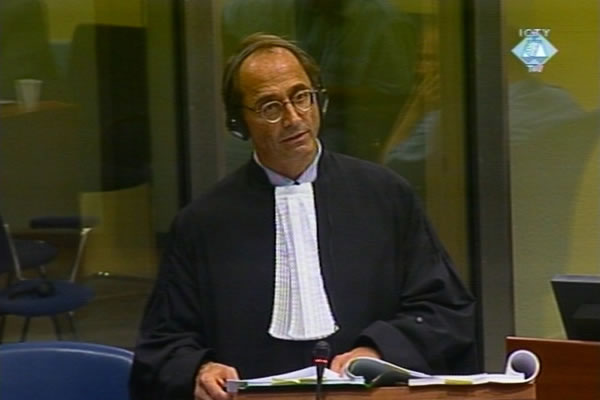 Michael Karnavas, defense attorney for Jadranko Prlic
In his cross-examination, Ray Lane, former head of the EU monitoring mission in Mostar, Gornji Vakuf, Siroki Brijeg and Prozor area, amended the evidence he gave in the examination-in chief about the map of the division of BH drawn in his presence by the former Herceg Bosna prime minister Jadranko Prlic.
Answering the question asked by attorney Michael Karnavas, the witness clarified that Prlic's drawing reflected the division of BH between Serbs and Croats, and not between Muslim and Croats as could be inferred from his examination-in chief. According to Prlic's vision, there was 'a little space for the Muslim population' in the Croatian half of BH. The witness couldn't remember when exactly Prlic made that drawing but was sure that it was at a meetings in Prlic's office in West Mostar. Prlic wanted to annex parts of Herzegovina to the Republic of Croatia, he added.
[IMAGE]3021[/IMAGE]In the cross-examination, Prlic's defense counsel challenged the credibility of the witness The Irish officer suffered from 'memory loss', Karnavas said, because he couldn't remember the names of the members of the presidency of the self-proclaimed Bosnian Croat community or the functions held by persons he met while he was there.
Karnavas repeatedly overstepped the boundaries of professional conduct, making comments of personal nature as he addressed the witness and the prosecution. Prosecutor Douglas Stringer responded, saying that he wouldn't tolerate Karnavas' comments and insults. Karnavas replied to the prosecutor's objection by saying that 'last night, the prosecutor had the chance to have a nice dinner and drink some fine wine, get some rest and then he got up on the wrong side of the bed'.
Presiding judge Antonetti asked Karnavas to calm down while the Swiss judge Stefan Trechsel reprimanded him for his 'unprofessional conduct in the courtroom' and requested that he refrain from personal comments and insults in the future.
After consulting with his client during the break, Karnavas apologized to the prosecutor for his 'twisted humor' explaining rather unconvincingly that he only wanted to 'loosen up' the courtroom atmosphere.
The trial continues tomorrow with the cross-examination of the Irish officer by other defense counsel.