Home
THE ARMY 'HAD NOTHING TO DO' WITH ALBANIANS' EXODUS
As his testimony in his own defense draws to a close, General Lazarevic says that he knew in 1999 that many people left Kosovo, but claims that the army had nothing to do with it. Moreover, he and the members of his staff 'were concerned over this fact'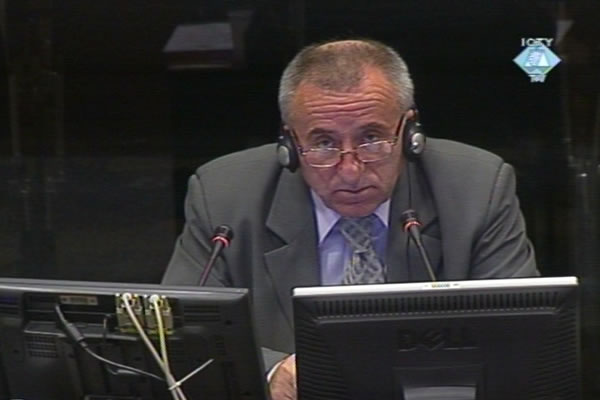 Vladimir Lazarevic testifying in his own defense
On the last day of General Vladimir Lazarevic's cross-examination, the prosecutor returned to what is, as he himself said, his 'favorite topic' – the question whether the Joint Command of the army and the police in Kosovo existed or not. Since the beginning of the trial of the six former Serbian officials charged with Kosovo crimes in 1999, the prosecution has been trying to prove that there existed a Joint command and that it served Slobodan Milosevic as an informal body implementing the plan for the expulsion of Albanian civilians. The prosecution alleges that General Lazarevic was himself a member of this body. Together with other five politicians and generals, General Lazarevic is charged with taking part in a joint criminal enterprise whose goal was to change the ethnic balance of the province.
When Lazarevic called the Joint command 'a non-existent body', the prosecution showed minutes from a meeting of the Interdepartmental Staff for the Fight against Terrorism from October 1998. At that meeting, Slobodan Milosevic invites Nebojsa Pavkovic, the then Pristina Corps commander, to present a report on behalf of the Joint Command. Lazarevic first contended that the person taking minutes might have made a mistake. When the prosecutor showed him that the Joint Command was mentioned in ten other places, Lazarevic repeated what he had said in his examination-in chief: the joint command was a term used for 'combined operations' of the army and police, and not a body.
In his examination-in-chief, Lazarevic said that the term 'armed non-Albanian population' used in a number of military documents referred to the Civil Defense troops subordinated to the Ministry of Defense. The prosecution then showed him a document issued by the General Staff in February 1999 ordering them to participate in actions together with the VJ units. Lazarevic replied that such an order was, in his view, 'in the sphere of the impossible' as the army had no authority over these groups. Many witnesses testifying for the prosecution identified local armed Serbs as the perpetrators of the gravest crimes against civilians. According to the prosecution, these local armed Serbs were actually the people behind the phrase 'armed non-Albanian population'
Lazarevic admitted today that during the war, he was aware of the fact that many people left Kosovo, but rejected the possibility that the army was responsible for it. The people fled from 'the battlefield' and this 'caused concern' for the army. The general testifying in his own defense will now be re-examined by Mihajlo Bakrac, his defense counsel. Lazarevic's testimony will thus take full fifteen working days.