Home
A SINGLE TANK AND A SINGLE GRENADE
Despite numerous complaints about the excessive use of force by the Serbian security forces in 1999 and despite the admission of some high-ranking officers that this had happened, General Vladimir Lazarevic claims that the army troops deployed in Kosovo fired 'a single grenade from a single tank' on the Albanian villages before the NATO campaign began. Lazarevic is testifying in his own defense at the Kosovo Six trial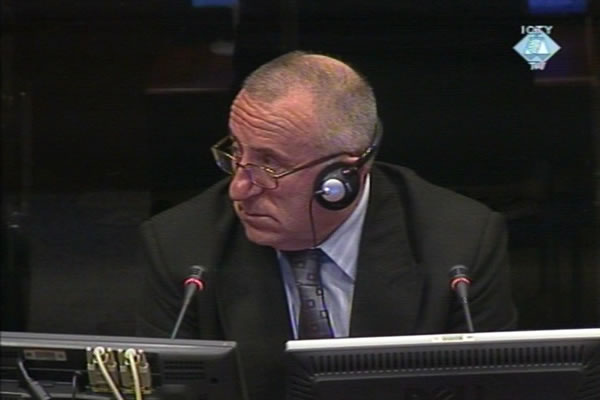 Vladimir Lazarevic testifying in his own defense
As the cross-examination of General Vladimir Lazarevic continued, the prosecution contested the claim he had made in his examination-in chief: Lazarevic said the army had not been preparing for the war in late 1998 and early 1999. It acted 'like there wouldn't be war in the next one hundred years', he said. The prosecution showed the remarks made by Milivoj Bojovic, Guards Brigade commander, at the General Staff collegium meeting in January 1999. He said that the army should prepare 'as if the war would start tomorrow'. Despite this announcement, made at the meeting of the highest military body, Lazarevic contended that this hadn't happened.
The prosecution then showed some remarks made by Aleksandar Dimitrijevic, the then head of military security, at the same collegium meeting, where he criticized the army for excessive use of force. Dimitrijevic said that the fight against terrorism should be the police's task while the army should no longer launch artillery attacks against Albanian villages. 'The police then enter the village and capture everyone who is still there', Dimitrijevic noted at the collegium meeting.
Lazarevic said he was aware of only one complaint against the excessive use of force after 'a single grenade was fired by a single tank' on the village of Slapuzane on 8 January 1999. There were no other complaints, at least not to his knowledge, despite the fact that he was the Prisitina Corps commander and was in Kosovo the whole time.
The prosecutor reminded Lazarevic of an interview he gave to Nedeljni telegraf, a Belgrade paper, in November 2000, where he blamed the escalation of the crisis in Kosovo on the police. In this interview, Lazarevic allegedly said, 'Perhaps I shouldn't be saying this, but the Interior Ministry and its political mentors caused our defeat in Kosovo'.
Today, however, Lazarevic claimed he never said these words. The journalist abused their conversation and fabricated this interview to communicate his own attitudes. The accused general admitted he had met the journalist who had authored the interview and spoken to him. They spoke about 'general issues' and very little of that made it to the text, he said.