Home
COMBINED, NOT JOINT COMMAND
General Vladimir Lazarevic says it would have been better if he and other high-ranking military officers used the term 'combined' rather than 'joint command' in their orders. Had they done so, they 'wouldn't be where they are now', before the Tribunal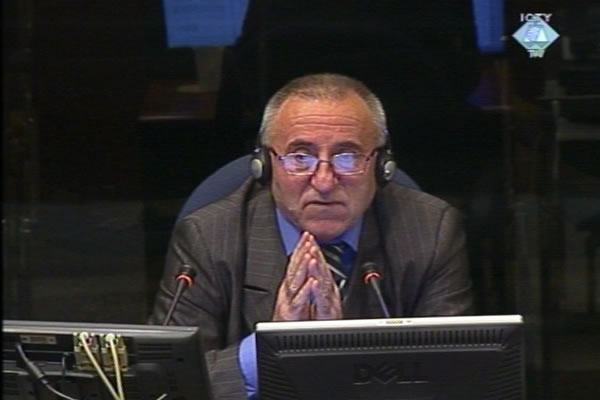 Vladimir Lazarevic testifying in his defense
In his examination-in-chief, General Vladimir Lazarevic said the VJ had protected the Albanian civilians in Kosovo in 1999, not expelled them. This prompted the prosecutor to ask him at the beginning of the cross-examination why several Albanian villages around Djakovica had been cleansed in April 1999. He then confronted Lazarevic with statements of Merita Dedaj and Lizane Malaj, two Albanian women from Kosovo. Testifying as prosecution witnesses, they described how Serbian soldiers had expelled the women and children and taken away the men after entering the villages of Korenica and Guska on 27 April 1999.
Lazarevic said that he had 'no information' that anybody from the army or from the Ministry of the Interior had ordered civilians to leave those places or men to be taken away. He had no knowledge of anyone expelling civilians in Kosovo, ever, he added. Today he announced that more information about the attack on villages Korenica and Guska on 27 April 1999 would be given by some military witnesses who would come to testify in his defense. He thus confirmed that the VJ had participated in this operation.
As today's hearing drew to a close, the prosecution opened the topic on the joint command of the army and police in Kosovo. According to Lazarevic, this body didn't exist. The indictment alleges that this was an informal body set up by Slobodan Milosevic to implement the plan for the expulsion of Kosovo Albanians. According to the prosecution, four of the six accused in this case – Sainovic, Pavkovic, Lazarevic and Lukic – were members of the Joint command.
The prosecution showed the witness a Pristina Corps order issued in August 1998 stating that 'the joint command for Kosovo would be in command' in the operations launched in the area bordering with Albania. Lazarevic remained adamant that such a body didn't exist despite the fact that the document had his signature and a bold heading saying 'Joint Command'.
The accused explained that he and other high-ranking military officers misused the term 'Joint Command', when it was in fact a 'combined' command of the army and police. At times, they fought together but each kept its own line of command. When the prosecutor noted that it would have been logical for military orders, some bearing Lazarevic's signature, to use the term 'combined' rather than 'joint' command, Lazarevic agreed. 'I'd like that to be the case, because then we wouldn't be where we are', he added.