Home
ALBANIANS AMONG 'ARMED NON-ALBANIAN POPULATION'
General Lazarevic claims that the army didn't command the groups of armed local Serbs, identified by prosecution witnesses as the perpetrators of the gravest of crimes in Kosovo. According to him, those were Civilian Protection units, and there were Albanians in their ranks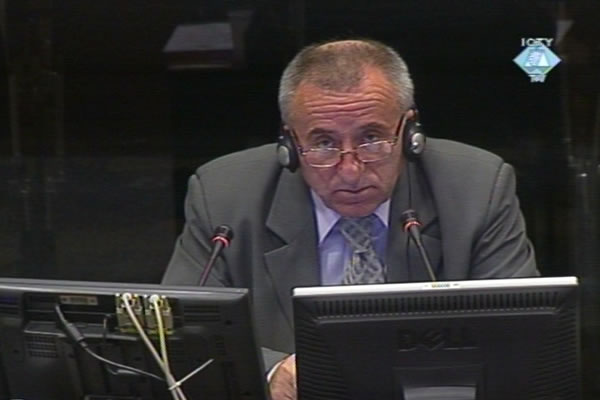 Vladimir Lazarevic testifying in his own defense
Many prosecution witnesses testifying at the trial of six former Serbian officials on charges of murders and deportations of Kosovo Albanians in 1999 identified local armed Serbs as the perpetrators of the gravest of crimes against civilians. They were part of the army chain of command, the prosecution has alleged, tendering into evidence a series of documents where groups called the 'armed non-Albanian population' are described as participants in the military operations. Testifying in his own defense, General Vladimir Lazarevic denies this. The 'armed non-Serb population' referred to the members of Civilian Protection, who were under the command of the federal Ministry of defense.
The prosecution then confronted the witness with several orders issued in 1999 stating that the Pristina Corps would carry out coordinated actions with 'armed non-Albanian population'. This term for the Civilian Protection members came into use before the war, he explained. It continued to be used after the war broke out by sheer inertia, he went on to say, and was later used in all military documents. He himself never issued any orders to those forces, he said. According to him, there were ethnic Albanians in the Civilian Protection. He could not tell why some military officers in 1998 decided to call those groups the 'armed non-Albanian population'.
In his examination-in chief, Lazarevic tried to exonerate the army of the crimes committed by the police, claiming that the Interior Ministry in Kosovo had not been subordinated to the army despite an order issued by Slobodan Milosevic on 18 April 1999.
Yet in a document from May 1999, showed today by the prosecution, the infantry chief in the Pristina Corps – under Lazarevic's command at the time – issued orders to the police units for an action in the Radonjic lake area. The accused general admitted that those and many similar orders were issued to the police, but were not complied with. When the prosecutor asked Lazarevic if he had ever received any complaints from his subordinates because the police had failed to carry out those orders, Lazarevic said nobody had, because it had been 'generally known fact' and was not particularly emphasized every time.
The cross-examination Vladimir Lazarevic continues next week.