Home
LAZAREVIC'S CONTRIBUTION TO 'MILITARY SCIENCE'
General Vladimir Lazarevic explained today how in the Pristina Corps he had introduced measures to protect civilians that 'were unprecedented in military science'. Two days ago, Lazarevic said that the VJ in Kosovo in 1999 spared the civilians even when it could have fired on them under the international law of war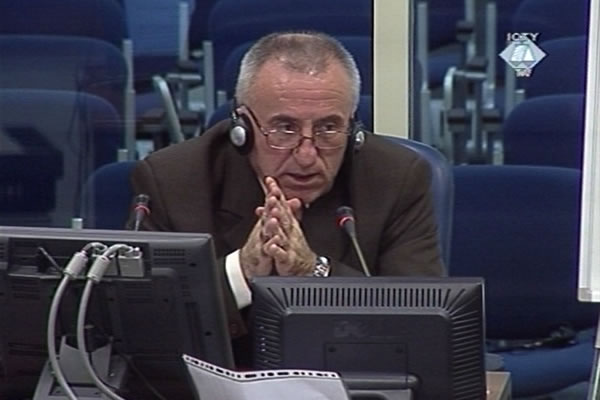 Vladimir Lazarevic testifying in his defense
On the fourth day of his testimony in his defense, former Pristina Corps commander Vladimir Lazarevic continued to refute the prosecution evidence about the unlawful conduct of the VJ in Kosovo in early 1999. Lazarevic contends that the standards the army applied went above those envisaged by international rules and national law. As he said two days ago, the Pristina Corps units did not want to shoot terrorists if they were mingled with civilians. This was a step further from the standards envisaged by international humanitarian law. Today Lazarevic explained why, in his opinion, the procedure for the admission of volunteers in the military reserve in Kosovo was even better than the one envisaged by the law. He also explained what he, as the Pristina Corps commander, did to protect the civilians during the NATO campaign. Measures he took were unprecedented, he said.
The accused general explained that the volunteers reporting to the VJ units were first sent to one of the two reception centers in Serbia: in Bubanj Potok near Belgrade and in Međa near Nis. All the applicants had to undergo security, psychological and medical check-ups as stipulated by the law and were then sent to Kosovo. Although the law didn't ask for this, the Pristina Corps organized additional security checks in the 'sub-reception centers' in Kosovo.
According to Lazarevic, some 1,400 volunteers were drafted into the army during the war, but as time went by, one third was dismissed because of health problems, lack of training and disciplinary problems. Some of them were handed over to military investigators 'in handcuffs' because they had committed crimes against civilians. Lazarevic didn't give any specific examples. Lazarevic thus 'filtered' the volunteers in a way that was stricter that the law demanded.
His treatment of civilians during the war was 'unprecedented in military science,' he went on to say. At one point, he issued an order that every Pristina Corps unit must establish a special team tasked with helping and care of civilians. Lazarevic's wartime order and a series of reports from subordinate units describing the assistance to civilians and their accommodation in facilities designated by the military were admitted into evidence as defense exhibits.
Lazarevic's examination-in chief is not finished and will continue on Monday.