Home
OPERATION STORM TRIAL DELAYED
The trial of three Croatian general charged with crimes committed during Operation Storm and in its aftermath is delayed because there still are unresolved issues related to the defense teams of Mladen Markac and Ivan Cermak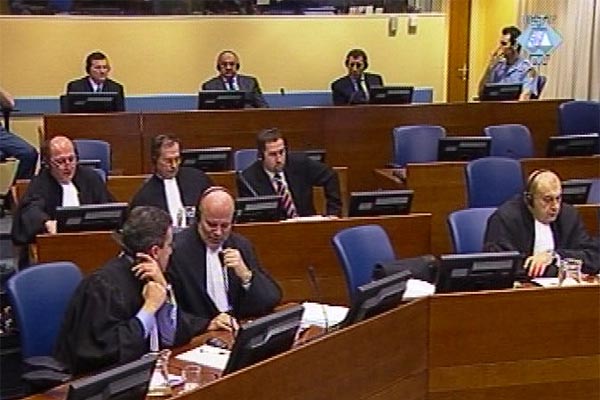 Ante Gotovina, Ivan Cermak and Mladen Markac in the courtroom
"It is virtually impossible" that the trial of three Croatian generals, Ante Gotovina, Ivan Cermak and Mladen Markac will begin on 7 May as scheduled. This is how pre-trial judge Bakone Moloto described the current situation in the case. He said that it "doesn't mean that the delay would be substantial".
Just how long the delay will be depends on the decision of the Appeals Chamber about Miroslav Separovic, Mladen Markac's defense counsel, and the decision of the Trial Chamber about Cedo Prodanovic and Jadranka Slokovic, Ivan Cermak' defense counsels. Separovic filed an appeal against the first-instance decision of the Trial Chamber to disqualify him as General Markac's defense counsel because of conflict of interest. The decision regarding the issue of conflict of interest in the case of Prodanovic and Slokovic is expected soon. The Chamber might disqualify them too from representing General Cermak.
A new start date for the trial cannot be set until all unresolved issues related to the Cermak and Markac defense teams are dealt with. The defense counsel talked to the press after the conference. They did not hide their dissatisfaction with the fact that they were put into this situation by the moves of Ante Gotovina's defense team. The whole issue of conflict of interest was raised by Gotovina's lawyers, when they indicated they would be calling as witnesses General Rahim Ademi (Cermak's defense counsel represent him in the proceedings before the Croatian court) and Miroslav Separovic, who was Croatian justice minister at the time relevant for the indictment.
With the trial delayed, the parties got some more time to make a list of agreed facts and for other preparations to speed up the trial once it is underway. The defense counsels of the three Croatian generals criticized the prosecution for not disclosing the identity of three prosecution witnesses. Two of them are Serbs, and the third is an "insider" – a Croatian Army (HV) officer who saw some of the events described in the indictment in the Operation Storm case. The defense insisted in particular that the identity of the HV "insider" be disclosed, because they want to investigate the witness's credibility.