Home
HOW THE ARMY BH TREATED THE MUJAHIDEEN
In the examination of the former security officer in the BH Army 3rd Corps, presiding judge notes that 'it appears' the El Mujahideen Detachment had 'different treatment' from the other BH Army units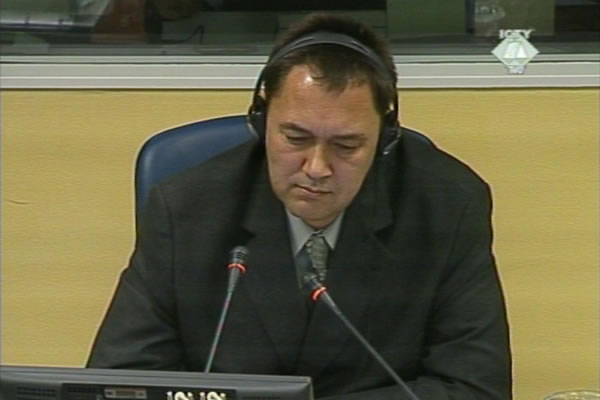 Edin Husic, witness in the Delic trial
At the Rasim Delic trial, the prosecution continued the examination of Edin Husic, former security officer in the BH Army 3rd Corps, in an effort to prove that the BH Army intelligence organs had information about the capture of a number of VRS soldiers near the village of Kesten in Vozuca in September 1995.
According to the indictment, the 328th Brigade – part of the 3rd Corps – captured about 60 Serb soldiers and civilians in the Vozuca area in September 1995. There were three women among them. The prisoners were taken to the base of the El Mujahid Detachment camp, it is alleged. The base was known as Kamenica and Gostovic. They vanished without a trace and are presumed dead.
In the examination-in-chief, Colonel Husic confirmed the claims made in the documents shown to him by the prosecution, indicating that during Operation Farz some units in the 2nd and 3rd Corps reported to their superior commands about groups of VRS soldiers trying to flee in the southern part of the Vozuca pocket. One of those reports mentions a group of between 40 and 60 VRS soldiers 'wandering through the woods'; another indicates that a group of about fifty persons had been seen.
In response to the judges' questions, the witness was unable to say whether this was one and the same group or different groups of enemy soldiers that had been seen. He couldn't say how many of the soldiers had been captured. As the witness said, the intelligence service did not keep records of the prisoners of war. This was the military police's job, he says. 'The intelligence service needed the prisoners only as a source of information,' he said.
After the witness indicated that the 3rd Corps intelligence service did not have 'any contacts' with the El Mujahid Detachment, presiding judge Moloto noted that 'it appears that the detachment was treated differently from other BH Army units'. They did not maintain contact and report on their activities; in addition to that, some of the El Mujahid Detachment troops did not wear uniforms, as some previous witnesses had testified. According to the judge, this shows 'the way in which the BH Army treated the Mujahideen'.
When Judge Moloto insisted that the witness state his view on that, the defense expressed some concern over 'the leading tone' of his questions. Finally, the witness said he was 'not in a position to answer'.
The trial continued with the testimony of Goran Krcmar from the Commission for Missing Persons in Republika Srpska.