Home
CLOSE ENCOUNTER WITH THE MUJAHIDEEN
Prosecution witness Hamdija Sljuka testifies at the trial of Rasim Delic, describing his only official visit to the El Mujahid Detachment camp in the Gostovic river valley about 10 km from Zavidovici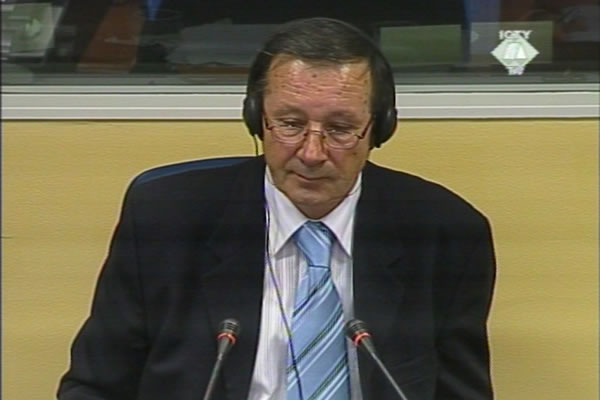 Hamdija Sljuka, witness in the Delic trial
Hamdija Sljuka, former security officer in the 35th Division of the BH Army 3rd Corps, testifies at the trial of former commander of the BH Army General Staff. Today, he described his only visit to the El Mujahid Detachment camp. He visited the camp which was located in the Gostovic river valley, some 10 km from Zavidovici, in the summer of 1995.
The witness visited the Mujahideen camp on the orders of the 35th Division commander Fadil Hasanagic, or his assistant for security Fadil Imamovic, to check "the rumors" that some captured VRS members were held there.
He and two 35th Division military police officers that accompanied him were stopped at the camp gate by two armed Mujahideen. One Mujahideen kept his weapon pointed at the BH Army officers, while the other went to get the translator who told them, after speaking to his superiors, that there were no prisoners of war in the camp. The Mujahideen kept their weapons pointed at the three BH Army officers the whole time of their visit, and they left the camp after a while to return to Zavidovici.
The witness wrote a report to his superiors about his attempted investigation into the rumors regarding the Serbian soldiers allegedly held captive in the El Mujahid Detachment camp. Answering the judges' question, the witness said that he did get the impression that there were prisoners kept in the camp regardless of the assurances of the Mujahideen.
Apart from this close encounter, the witness communicated with the Mujahideen whenever the El Mujahid Detachment announced its members would be passing the HVO and BH Army checkpoints at the entrance to Zepce. According to the witness, the El Mujahid Detachment wasn't part of the command and control as were other BH Army units.
When presiding judge Moloto asked why the security officers of the 35th Division included the information on the El Mujahid Detachment operations in their reports if it didn't belong to the BH Army chain of command, the witness said that they did so because the Mujahideen were in their area of responsibility. The witness maintained this even after he was shown an order from the 3rd Corps issued on 2 July 1995, ordering the resubordination of the El Mujahid Detachment to the 35th Division.