Home
EFFORTS TO SAVE SURVIVORS FROM ZEPA AND SREBRENICA
Ismet Alija, former head of Operational Planning Department at the BH Army command post in Kakanj claims that the BH Army General Stuff ordered extensive operations in all fronts in order to help Zepa and Serbrenica survivors, when this was not done by 'those who were supposed to protect them'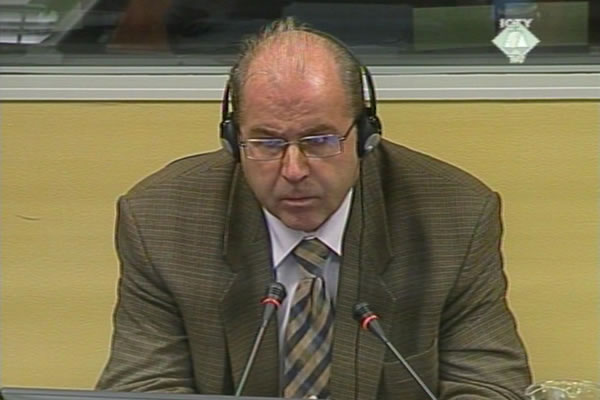 Ismet Alija, witness in the Delic trial
Ismet Alija, former head of the BH Army Operational Planning Department at the BH Army command post in Kakanj claims that the El Mujahid Detachment was not a part of the BH Army chain of command. In his testimony at the trial of Rasim Delic, he said that the Mujahideen took independent decisions and once they made a decision, 'nobody could do anything to them'.
In his examination-in chief, the witness noted that the Operational Planning Department daily monitored the situation on the front through the reports it received. Weekly and monthly combat plans were made up on the basis of the information sent by subordinated units.
One such report, tendered into evidence by the prosecution, mentions "the El Mujahid Detachment as the lead agent of the forthcoming task". Judge Harhoff' asked the witness if this meant that the El Mujahid Detachment was 'the leading formation' in the 35th Division. The witness said it did not, clarifying that this was 'a specific case'. However, a bit later he did say that he was not sure how often such tasks were given to the El Mujahid Detachment.
Commenting on a document presented by the prosecution about the BH Army operations on the Vozuca-Ozren front in the summer of 1995, the witness said that this report had been written after the genocide in Zepa and Srebrenica. The BH Army General Staff decided to launch combat operations throughout the theatre to save the survivors from Zepa and Srebrenica, given that this had not been done by those who had been supposed to save them. According to the witness, those were the members of the UN Dutch Battalion who 'instead of helping and protecting them' made it possible for the aggressor 'to slaughter and kill them and thus commit the worst genocide after the 2nd World War'.
Presiding Judge Bakone Moloto interrupted the witness then, asking prosecutor Laurie Sartorio to 'try and control her witness'.
The trial will continue with Rasim Delic's defense cross-examining the witness.