Home
AN UNPRECEDENTED CASE
Fadil Imamovic, former assistant commander for security in the 35st Division, part of the BH Army 3rd Corps, testifies for the prosecution at the Rasim Delic trial. The Division command repeatedly asked the civilian authorities in Zavidovici to solve the problems caused by the El Mujahid detachment, he notes. When asked why the civil authorities should deal with military issues, the witness answers that it was 'an unprecedented case in military practice'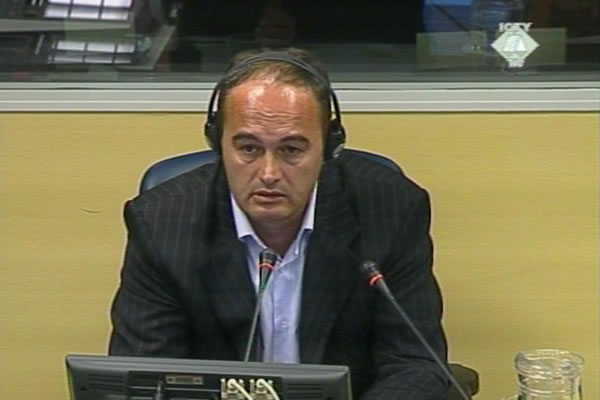 Fadil Imamovic, witness in the Rasim Delic trial
Continuing his evidence at the trial of Rasim Delic, Fadil Imamovic, former assistant commander for security in the 35 Division, part of the BH Army 3rd Corps, says that he couldn't remember if the captured Serbian soldiers he had visited in the El Mujahid detachment camp in Livade village on 22 July 1995 were mistreated or not. He explains that he had a rifle pointed at his back and that throughout his short visit he was 'as scared of the Mujahideen as the prisoners themselves'.
When the judges insisted on this point, the witness described his encounter with the prisoners, noting that he saw two groups of prisoners in a smaller room sitting on the floor huddled together. He couldn't remember if they were tied up or not. He repeated that he notified his superior officers in the 3rd Corps command about 'everything he saw' but he was not aware if an investigation followed or if the prisoners had been interviewed in greater detail by anyone else.
In his cross-examination, the witness said that the 35th Division command repeatedly asked the civil authorities in Zavidovici to solve the problems caused by members of the El Mujahid Detachment. Asked why the civilian authorities should deal with military issues, the witness answered that it was 'an unprecedented case in military practice'. In this particular case, the civilian authorities had much stronger influence on the Mujahideen than the army.
Judge Harhoff asked him how it was possible that no report about the mistreatment of prisoners in the El Mujahid Detachment camp had been filed by anyone in the BH Army – and this was happening before their very noses. The combat operations zone around Zavidovici was huge, the witness said, and the Mujahideen didn't allow the BH Army troops into their camps. The witness categorically denied that he had ever been instructed by the superior command not to discuss the issue.
The prosecution's next witness is Ismet Alija, chief of the Operational Planning Department at the BH Army command post in Kakanj.