Home
OJDANIC'S DEFENSE RESTS
The cross-examination of Dragoljub Ojadnic's last defense witness finished with the debate about the role played by 'armed non-Albanian population' – local Kosovo Serbs who were identified as perpetrators of crimes against Albanian civilians in the first half of 1999 by many prosecution witnesses. General Nebojsa Pavkovic's defense will call its first witnesses next week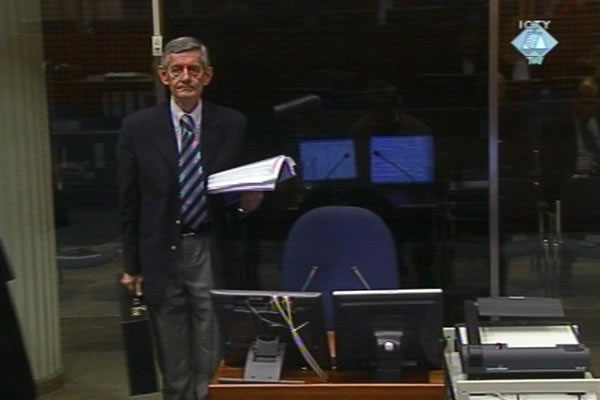 Radovan Radinovic, defense witness for Dragoljub Ojdanic ends his testimony in Den Haag
Taking part in arming of Kosovo Serbs in 1998 and 1999 when he was first the deputy chief and then the chief of the VJ General Staff is among the charges against General Dragoljub Ojdanic. The Kosovo Serbs were then assigned to units controlled by the army. Many prosecution witnesses identified these local Serbs as perpetrators of gravest crimes against Kosovo Albanians in the first half of 1999. Radovan Radinovic, General Ojdanic's defense expert denied in his report, that they operated under the Army's auspices.
Several documents tendered into evidence by the prosecution note the participation of 'armed population' in the army and police actions in Kosovo. The witness was confronted today with the minutes from a General Staff meeting on 2 February 1999. In the meeting, the then 3rd Army commander, Dusan Samardzic, reported that the army delivered 47,000 guns to Kosovo Serbs and Montenegrins. Radinovic replied that this number was exaggerated in view of the 'call-up potential' of the Kosovo Serbs. However, he didn't deny that it was possible that the army distributed a certain number of weapons to the Serbian civilians in the region. This, however, didn't imply that they acted under its control, he said.
When the prosecutor suggested that according to the FRY Law on Defense, armed groups in the field 'can be commanded by any VJ officer at the battalion level', Radinovic answered that 'it was possible, but not necessarily so', contending that in Kosovo armed civilians 'gathered spontaneously' into village units. These could have been commanded by 'some local Serb with or without a rank' chosen as a leader by the people.
The prosecution then presented an order from June 1998, signed by Nebojsa Pavkovic, who commanded the Pristina Corps at the time, calling for the distribution of arms to the local Serbian 'conscripts' and their organization in units controlled by the army. The witness replied that this was not a matter of regular mobilization. The prosecutor reminded him that Pavkovic had asked for a 'secret mobilization of units only in Serbian villages'. Radinovic then agreed that this was an 'atypical' move. The army was forced to do so, he said, because it was an internal inter-ethnic conflict.
The trial of six former Serbian officials charged with crimes against Kosovo Albanians in 1999 continues on Monday with General Nebojsa Pavkovic's case opens. Pavkovic was the commander of the VJ 3rd Army at the time of the NATO campaign. The defense will not be presenting their opening arguments, but will immediately call witnesses.