Home
DID THE JOINT COMMAND ACTUALLY COMMAND?
Pavkovic's defense witness claims that the Joint Command for Kosovo merely coordinated the operation of the military and police. It is illogical, he contends, that a body that did not command should be called 'a command', but he says that he didn't have enough 'military curiosity' to investigate this issue. Pavkovic will not be testifying in his defense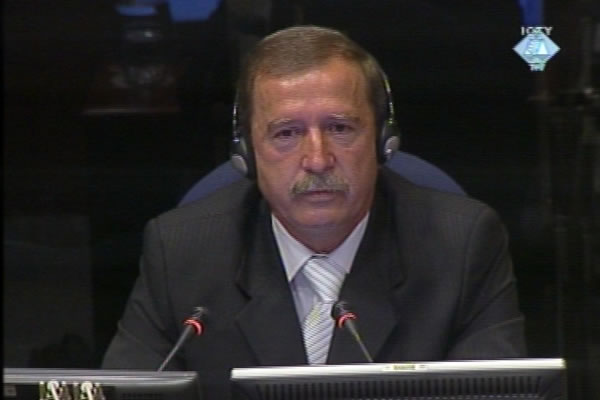 Miodrag Jankovic, defense witness for Nebojsa Pavkovic
In the first two days of his defense case, Nebojsa Pavkovic's defense called four former 3rd Army officers. In 1999, the accused commanded the 3rd Army. Today, two other associates of the accused general took the stand: former chief of communications in the 3rd Army Miodrag Jankovic and Pavkovic's assistant for logistics Tomislav Mladenovic.
Jankovic claimed that the key communications centers were destroyed in the NATO intervention; the communication between the 3rd Army command and its subordinate units was often disrupted. According to the defense, this should show that Pavkovic had trouble learning about any crimes committed by the units under his command.
The prosecutor put it to him that they could have communicated using portable communications equipment and couriers. Jankovic replied that couriers ran great risks, because 'terrorists killed them mercilessly'. The distance between units in the field was such that they were out of range of portable communications equipment.
[IMAGE]3043[/IMAGE]The second witness called today, Tomislav Mladenovic, claimed that in 1998 and 1999 Pavkovic only obeyed the orders he received from the VJ General Staff. He heard about the existence of a joint command for Kosovo, but he says that this body was in charge only of coordinating the activities of the military and police. It is illogical, he says, that a body that didn't command should be called a command, but he didn't have enough 'military curiosity' to pursue this issue any further.
According to the indictment, Nikola Sainovic was the head of the Joint Command. Three of the six accused – military generals Nebojsa Pavkovic and Vladimir Lazarevic and MUP chief for Kosovo Sreten Lukic – took part in its work. The prosecution claims that Slobodan Milosevic and the Serbian political and military leadership used this body to implement its plan to expel 800,000 Albanians from Kosovo. All the accused deny that such a body existed and that it had any power to command the military and police.
Pavkovic's defense case will end tomorrow, it was indicated at the end of the hearing today. The accused general decided not to testify in his defense. Former chief of the VJ General Staff General Dragoljub Ojdanic had also decided not to testify. Generals Vladimir Lazarevic and Sreten Lukic are still on the witness lists.