Home
BH ARMY OFFICERS VISITED PRISONERS HELD BY MUJAHIDEEN
Izudin Hajdarhodzic, former assistant commander for intelligence in the BH Army 35th Division describes his visit to the Serb prisoners of war in a camp run by the El Mujahid Detachment in Livade in late July 1995. One of the prisoners was brought in tied with wire to a wooden pole by the Mujahideen, he says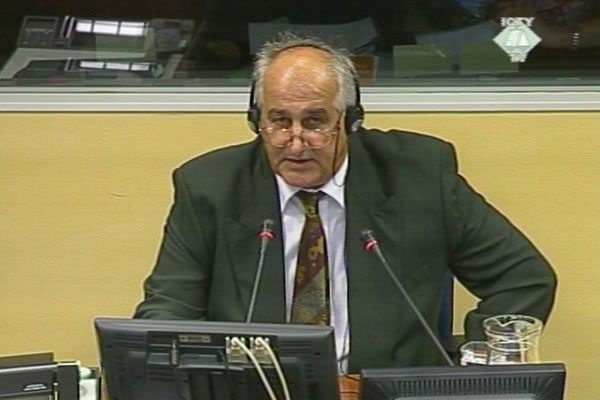 Izudin Hajdarhodzic, witness in the Delic trial
Izudin Hajdarhodzic, former assistant commander for intelligence in the BH Army 35th Division, described his first and only visit to the Serb prisoners of war, held in the El Mujahid camp in the village of Livade near Zavidovici in late July 1995.
Hajdarhodzic went to Livade together with Fadil Imamovic, who was the assistant commander for security. They had received reports of a large group of Serb soldiers captured in a BH Army operation on the Ozren frontline. When they arrived in the village, they were told to talk to the Mujahideen. After a brief hesitation, the Mujahideen allowed the two BH Army officers to 'meet briefly' with the prisoners in a village house.
On that occasion, the witness wrote down the names of three Serb prisoners of war, but today he said he could remember only one of them, brigade doctor Branko Sikanic. He was brought into the room by two Arabs. He was tied to a long wooden pole with wire. Since his hands and feet were blue because of the wire, the two BH Army officers asked the Mujahideen to untie the prisoner. They refused. After extracting the basic information from the doctor, the pair left Livade. The witness says he never saw the two Arabs who brought in and took away the doctor.
Although previous prosecution witnesses said the El Mujahid Detachment had been resubordinated to the 35th Division during the operation on the Ozren frontline, the witness says he 'cannot accept that' or, at the least, that he 'didn't know about that'. When the judges asked him why offices from the 35th Division had gone to visit the prisoners held by the El Mujahid Detachment if the detachment was not part of the division, the witness replied they had done it because the village of Livade, where the prisoners had been held, had been in their area of responsibility.
Hajdarhodzic's testimony will continue tomorrow with the cross-examination by Rasim Delic's defense. The indictment charges Delic with failure to prevent or punish the crimes committed by the El Mujahid Detachment.