Home
MOTIONS CHALLENGING TRIBUNAL'S JURISDICTION IN THE OPERATION STORM CASE DISMISSED
The Trial Chamber dismissed both interlocutory appeals filed by Ante Gotovina's defense and a joint appeal filed by Ivan Cermak's and Mladen Markac's defense teams challenging the jurisdiction of the Tribunal in the Operation Storm case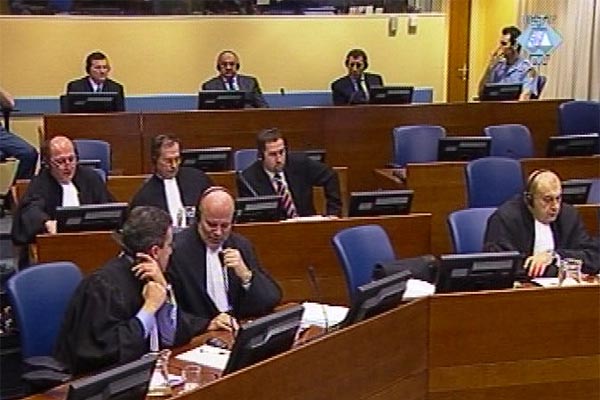 Ante Gotovina, Ivan Cermak and Mladen Markac in the courtroom
The Trial Chamber in charge of the pretrial proceedings in the case against the three Croatian generals charged with crimes against Serbian civilians committed during and after Operation Storm dismissed today all interlocutory appeals challenging the jurisdiction of the Tribunal. The two interlocutory appeals filed by Ante Gotovina's defense and the joint appeal filed by Ivan Cermak's and Mladen Markac's defense teams were dismissed.
In the interlocutory appeals, the defense teams of the three generals challenged the jurisdiction of the Tribunal arguing that "there was no armed conflict in Krajina after the successful conclusion of Operation Storm. After "the exodus of the political and military leadership of the self-proclaimed Republic of Serbian Krajina" there were no "organized and intensive activities" of the forces opposing the Croatian authorities. According to the defense, if any crimes were committed in Krajina, they were not committed in the context of an armed conflict and thus they fell under the jurisdiction of the Croatian judiciary and not that of the Tribunal.
The trial of Ante Gotovina, Ivan Cermak and Mladen Markac is scheduled to start on 7 May 2007.